Blog
Blazing the Path Forward at FUSE 2020
While the Fall 2020 edition of FUSE looked different than in past years, it did not disappoint!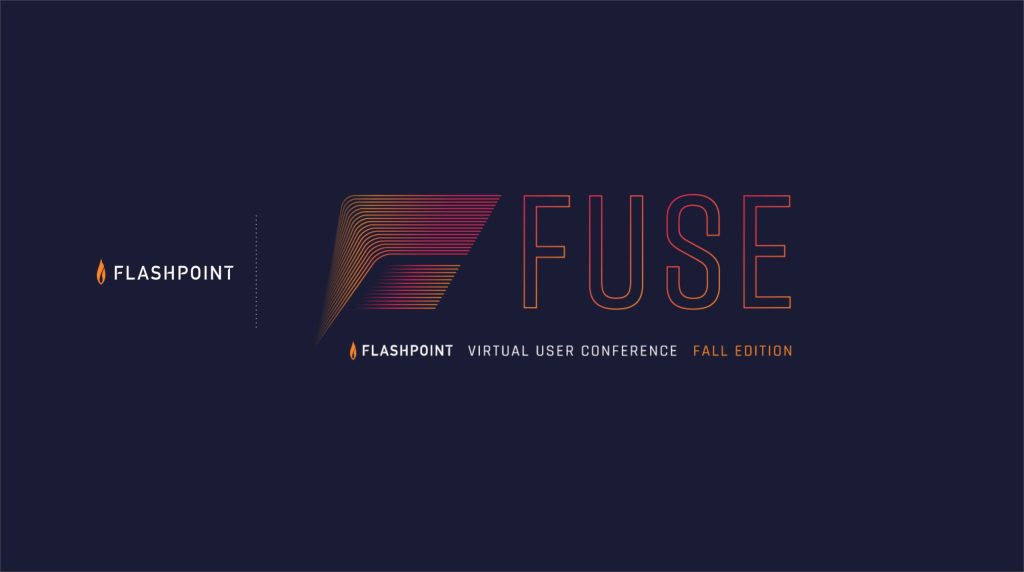 Table Of Contents
While the Fall 2020 edition of FUSE looked different than in past years, it did not disappoint!
In two action-packed days, we gathered (virtually) hundreds of security and threat intelligence practitioners and leaders for our semi-annual user conference. This event came at a critical time for Flashpoint and the industry, as Flashpoint customers face an increasing number of new threats each day and finite resources to ensure their organizations remain safe.
We focused on these issues in our presentations and discussions, by sharing best practices, diving into recent threat actor trends and their tactics, techniques, and procedures, and identifying how Flashpoint can help save teams time and money. We also held a fireside chat with entrepreneur, Cyber CEO, and ABC Shark Tank investor, Robert Herjavec, who is also a Flashpoint investor and advisor.
Day 1: Adding Value Through Action
Kicking off our FUSE fall event were Flashpoint's CEO Josh Lefkowitz and Chief Strategy Officer Chris Camacho. They recapped some of Flashpoint's most exciting developments and business highlights from the year so far.
With still a few months left in 2020, we've already announced three new product lines, including our new Compromised Credentials Monitoring (both Enterprise and Customer versions), Data Exposure Alerting, and major enhancements to existing tools like the Flashpoint Dedicated Knowledge Base and Flashpoint Alerting Dashboard.
A core theme for Josh and Chris was the importance for threat intelligence to deliver higher levels of automation, action, and business value. Intelligence is at its best when it's delivered in real-time, with meaningful and practical response options, and resource-efficient as possible. Later in the day, we explored this concept in more detail outlining enterprise examples for how any organization can turn IoCs into actionable intelligence.
The ROI of Flashpoint CTI
Josh also shared with the audience Flashpoint's head-turning 482% ROI, which was calculated as part of the Forrester Total Economic Impact™ (TEI) study. Forrester's independent TEI methodology runs an in-depth cost-benefit analysis based on the financial parameters of real Flashpoint customer implementations. Needless to say, we were pleased with their findings!
This Forrester TEI also concluded that the Flashpoint customers in this study saw a minimal <3-month payback period and a net present value (NPV) of $1.9 Million based on a 3-year subscription license.
You can access your copy of the Forrester TEI report here if you haven't already.
Sharing Key Findings and Best Practices Across our Customer Community
A core part of the Flashpoint approach is to ensure that we are building a collaborative community across our customer base, which includes helping customers to share best practices with one another and empowering our own team to be thought leaders on the issues that are critical to our customers' success.
To further this goal, day 1 featured a keynote presentation from Jim Routh (CISO of MassMutual) on how he prioritizes his time in a high-volume and high-threat environment, as well as insights from a large retail customer on best practices in stopping fraud — leveraging Flashpoint's data and intelligence. Our analyst team further shared actionable and hands-on insights on the resurgence of the one-two punch of Emotet and Trickbot, as well as other evolving malware threats that impact our customers.
Day 2: Card Shops, Ransomware, and What 2021 Has In-Store
On the second day of FUSE, we dove into some of the emerging trends our threat analysts are seeing in carding forums and the rampant spread of ransomware variants worldwide.
In particular, ransomware continues to hit organizations hard this year. Coronavirus and the necessary work-from-home measures put in place caught many organizations off-guard and unprepared to handle an entirely remote workforce. Of course, where security pros see risk, cybercriminals see opportunity.
Walking the FUSE audience through recent case studies, Bryan Oliver–who specializes in ransomware on our analyst team–outlined the recognizable patterns in recent ransomware attacks and offered concrete mitigation strategies to identify and minimize the financial fallout of ransomware attacks. Threat intelligence is one effective ransomware mitigation tool to ensure organizations are prepared and respond rapidly to every threat.
Flash Forward to 2021
We are in exciting times at Flashpoint right now. There's a lot happening and we have big plans for 2021. Those who joined us for day 2 at FUSE were treated with a sneak-peek into our product roadmap and some of the major areas of investment for our platform. While we can't go into too much more detail here, we can say that you won't be disappointed.
To close out FUSE, Chris Camacho and Robert Herjavec sat down for a virtual fireside chat. Mr. Herjavec shared what life has been like for him on-set in quarantine in Las Vegas as they film the entire upcoming season of ABC's Shark Tank in isolation. As an investor and security practitioner himself, Herjavec emphasized the importance of digital identity in a WFH world and the need for capabilities to validate legitimate identities and quickly identify fraudulent activity, at massive scale.
Revisit FUSE Fall 2020 and Join Us for More This Year
If you missed the Fall 2020 edition of FUSE, check back here for links to session recordings and other content from the event. Or contact us directly!
Moreover, we aren't done with 2020 just yet! We have a lot more happening in the next couple of months. Please join us at one (or many) of our upcoming digital events in 2020.
Turn Insight into Action with Flashpoint
As always, if you like what you read here, give us a shot and start your 30-day trial today!