Blog
COVID-19 Key Developments: May 23-June 5
Across the world, medical research is being conducted for dozens of different vaccines for the coronavirus. Some countries, such as China and Russia, hope to have a vaccine in use later this year, but many experts continue to caution that a vaccine may not be widely available until 2021.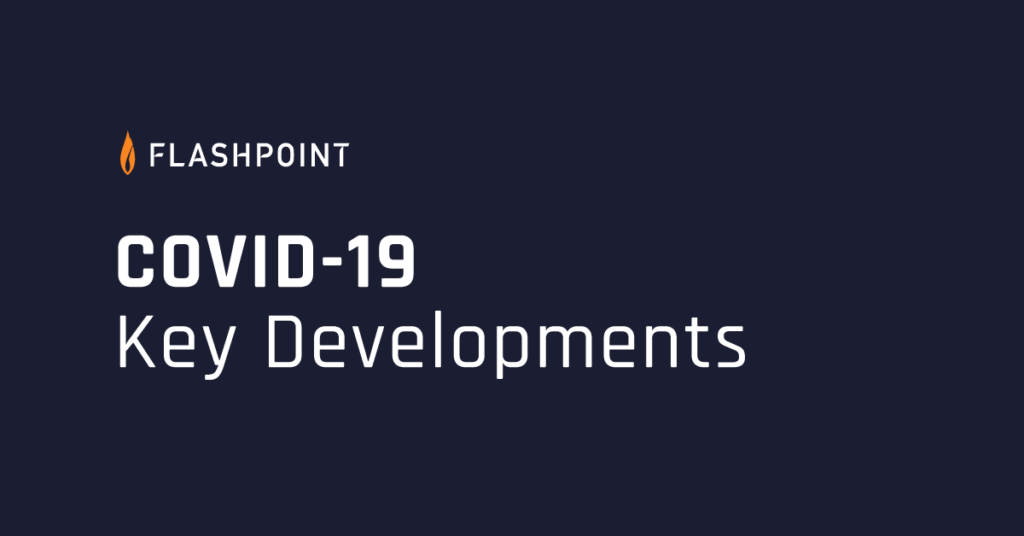 Table Of Contents
Medical Developments:
Across the world, medical research is being conducted for dozens of different vaccines for the coronavirus. Some countries, such as China and Russia, hope to have a vaccine in use later this year, but many experts continue to caution that a vaccine may not be widely available until 2021.
An Italian doctor working in the epicenter of the outbreak in Italy claimed in late May that the coronavirus was losing potency and "in reality, from the clinical point of view, the virus no longer exists." However, the statement has caused a controversy in Italy and elsewhere across Europe as other medical officials across the globe have disputed the statement. The WHO responded to the statement with a warning that the virus remains a very real and significant threat.
Three authors of a study retracted their findings about risks associated with anti-malaria drug hydroxychloroquine as a treatment for coronavirus. The use of this drug has been a controversial topic, with some proponents—such as US President Donald Trump—vouching for its effectiveness, while other countries banned its use as a treatment option due in part to this study's findings. The researchers claimed in the notice that they could no longer vouch for the veracity of the primary sources in the study.
Government Responses:
New reported cases globally have continued to rise at a rate of approximately 100,000 per day since late May, sparking concerns about possible spikes in infection as economies begin to reopen and lead to greater interaction among individuals.
Worldwide, many of these cases are concentrated in densely populated countries across Africa, Latin America, and South Asia. For example, on Friday, June 4, India reported the largest single-day increase in the country, a concern as the country works to reopen portions of its economy.
The US Bureau of Labor Statistics announced on Friday, June 5, that payroll employment rose by 2.5 million, and unemployment declined to 13 percent for the month of May. The Labor Department attributes this to resumption of economic operations across the country. Some researchers have also attributed these promising figures to the effectiveness of the Paycheck Protection Program distributed through the CARES Act, whose loan forgiveness measures were further eased in a bill signed by President Trump on Friday. The agency's report did include a note regarding a "misclassification error" where some individuals were incorrectly classified as employed. If that error had not occurred, the overall unemployment rate would have been 16.3 percent for May, which still shows an improvement over April's figures. The Bureau of Labor Statistics has indicated it is working to correct the calculation discrepancies.
As protests against racial injustice continue across the United States (and solidarity demonstrations take place in other areas across the world), there are some concerns that the close contact of participating individuals could result in the spread of COVID-19. However, as of this writing, there have been no reports from medical institutions indicating this has occurred.
Cybercrime and Coronavirus:
BleepingComputer reported that threat actors continue to exploit employees working from home. In a recent campaign, Microsoft Office 365 customers were targeted by a phishing campaign that used messages camouflaged as legitimate notifications to update the VPN configuration they use to access company assets while working from home. The messages actually sent victims to a landing page to steal credentials.
Multiple actors discussed the functionality and vulnerabilities of Australia-based application CoVIDsafe, a digital contact-tracing app announced by the Australian government on April 14. The app is based on the BlueTrace protocol developed by the Singaporean Government, and was first released on April 26. A threat actor shared two GitHub links that allegedly provide the source code of CoVIDsafe.
Criminals have continued to target unemployment across various US states. Recent examples of threat actor discussions within Flashpoint datasets include:
An English-speaking threat actor lists a number of states in a popular chat services channel and asks other actors to direct message them if they have "clients" in those states. The actor appears to be looking for partners in these states to carry out unemployment fraud methods they have previously advertised.
A vendor posts an advertisement that they have fresh "fullz" sourced from Washington state. They claim the profiles can be used to obtain unemployment assistance of $1,000 per week, and provide the fields of information that are included in the purchase.
The administrator of a popular chat service channel posts that they continue to profit from state unemployment fraud schemes, and appear to claim that their method can provide a next-day payout. They also posted a screenshot of an email from the Texas Workforce Commission for their registration to receive electronic communications about unemployment assistance, likely as proof of their ability to use their method against that state's system.
Misinformation and Disinformation Narratives:
Misinformation and disinformation continues to spread on social media platforms and via chat services. Narratives and major developments observed by Flashpoint analysts include: Narratives attacking restrictive measures and tracing:
As lockdowns are eased across the United States and measures such as contact tracing to facilitate reopening the economy are more widely discussed in the media, Flashpoint analysts have observed an uptick in disinformation narratives attacking restrictive measures:
A video from early March showing Dr. Anthony Fauci saying that Americans should not wear masks was recycled without a time stamp. A social media post wrongly claimed that businesses could not legally oblige patrons to wear a mask. Another viral post wrongly claimed that masks cause hypercapnia.
A series of disinformation narratives has attacked contact tracing and contact tracing applications in various countries. Given the early stage of development of these applications and the uncertainties associated with contact tracing, it is natural that there is suspicion about their use. However, some of the narratives clearly qualify as disinformation. In the United States, One America News made the unsubstantiated claim that the Democratic Party is using contact tracers to help Joe Biden's campaign. DeAnna Lorraine Tesoriero—a prolific conspiracy theorist—said she would go "undercover" to find out the "truth" about contact tracing. Several videos tell people how to make sure their phone does not have a contact tracing app. In France, several disinformation sites have published the rumor that StopCovid, the country's contact tracing app, is going to be installed on phones automatically.
Conspiracy theories attacking Bill Gates or 5G technology (or both) have continued producing new disinformation content.
A new 5G-related conspiracy theory video claimed that 5G technology impacted blood cell permeability. Disinformation videos focusing on 5G continue spreading on TikTok, despite the platform's efforts to empower users to report these.
"Plandemic," a disinformation video masquerading as a documentary, which has had significant exposure in recent weeks aided by shares and reuploads by members of extremist communities, has reportedly been translated into various languages. The First Draft research organization found the video spreading in Facebook groups in German, Italian, Polish, Portuguese, Spanish, and Tagalog, and less widely spoken languages including Armenian. First Draft also warned that the original, Eng
lish-language video was spreading in African countries. The geopolitical debate about nation-state actors supporting disinformation continued. Researchers of the BBC found a pro-China network of more than 1,000 social media accounts across various social networks promoting pro-China COVID-19-related disinformation and criticism of the United States.
The EU's foreign policy arm, the External Action Service, was criticized after it launched an internal investigation to determine how an email on toning down a report criticizing China-based disinformation was leaked. The case raised the question of whether the EU, which has a history of calling out Russian disinformation efforts, was applying the same set of standards on China.
The OpenDemocracy website revealed that US taxpayer money was used, through the State Department, to fund a news site in Armenia that spread COVID-19-related disinformation.