Blog
COVID Key Developments: June 6-19
Norway's health authorities said they suspended a smartphone app Smittestopp ("infection stop") designed to help trace the spread of coronavirus after the country's data protection agency said it was too invasive of privacy. Developed in Norway and available for voluntary downloads, the application used centralized data storage.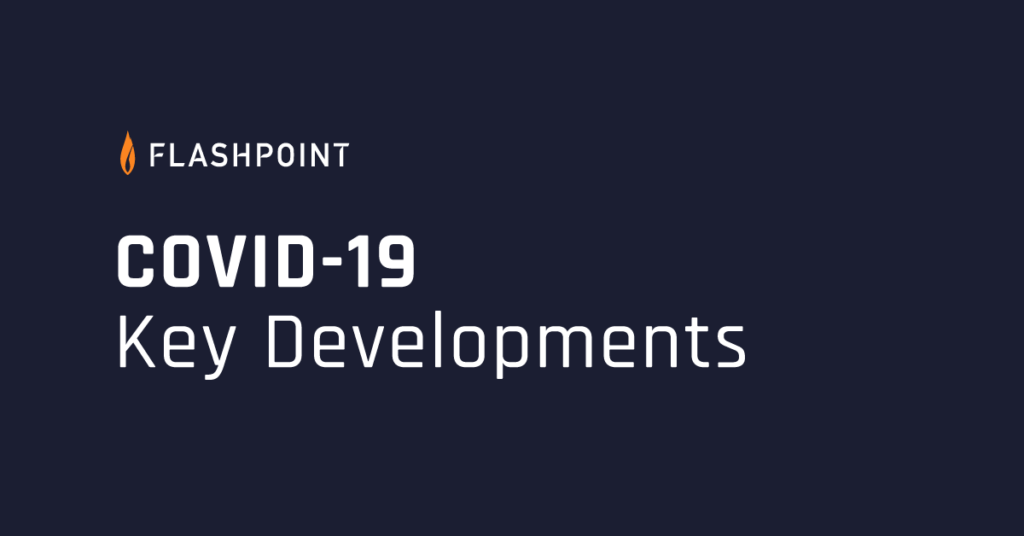 Table Of Contents
Government Responses:
Norway's health authorities said they suspended a smartphone app Smittestopp ("infection stop") designed to help trace the spread of coronavirus after the country's data protection agency said it was too invasive of privacy. Developed in Norway and available for voluntary downloads, the application used centralized data storage. Many governments across the world have deployed apps to track the spread of COVID-19 and inform users when they have come in contact with individuals who have either tested positive for the virus or exhibited symptoms. While most of these apps are voluntary, some governments have made use of the apps compulsory, which has led some privacy advocates to voice concerns about possible privacy issues. Although many developers have claimed to have integrated features to protect user privacy and anonymity, the rapid deployment of numerous different apps may mean that these safeguards are less robust or susceptible to exploitation.
China announced on Thursday, June 18, 2020 that researchers have discovered severe contamination at portions of a wholesale food market in Beijing. Officials indicate that the weather conditions in the area may have been a contributing factor to the contamination levels. The low temperature coupled with high humidity may have bred an environment conducive to an outbreak of the virus, but researchers are continuing to investigate.
On the same day, India reported that the country had 12,881 new cases, the highest single-day number reported to date in the country. Despite the rising number of cases, Prime Minister Narendra Modi indicated this week that the government is not planning to re-institute countrywide lockdown restrictions.
In the US, multiple states have reported a rise in coronavirus cases since late May, which has sparked concerns about whether some state governments were too ambitious and reopened public spaces too early. New York City, which was previously an epicenter for cases and deaths due to coronavirus, entered Phase 2 of reopening its economy on June 22.
Medical Research Developments:
On June 8, 2020 an official at the World Health Organization (WHO) claimed that asymptomatic transmission of the coronavirus was "very rare" in response to a reporter question. However, the following day the WHO held a press conference to address the statement, which they claimed was a misunderstanding. They also reiterated that there is much that remains unknown about the disease, including the transmission rates with asymptomatic individuals.
Researchers found that strains of the coronavirus may have been in Italy as early as December 2019. The country's National Institute of Health (ISS) said wastewater from Milan and Turin showed genetic virus traces on December 18, 2019, leading some researchers to speculate that the disease may have been travelling globally earlier than previously believed. These findings may assist researchers in their efforts to more effectively track the spread of the coronavirus.
Cybercrime and Coronavirus:
Flashpoint analysts continue to track ways in which threat actors in illicit communities are exploiting issues related to the pandemic for fraudulent purposes. Some examples include:
An English-speaking threat actor posted in a popular chat service channel that they have a successful method for unemployment targeting the state of North Carolina. They also claim to have methods that can be used in other states, and advertise fullz for sale as well. They do not elaborate in their posts about these methods to file for unemployment.
An English-speaking threat actor posted with a statement that CashApp unemployment fraud method was back in business. They did not provide specific details and invited inquiries via private messages.
A vendor posted an advertisement on a popular marketplace for favipiravir, which they market as a cure for coronavirus. They do not provide details about the volume of the drug, but include their information to contact them for additional details. Across open source, there has been some reporting that the drug has had some effectiveness in treating the virus.
A threat actor operating on a top-tier hacking forum posted in English and Russian accusing another actor of using a similar alias to theirs. According to the actor, another individual on Jabber is using the alias to sell logs, but is actually a ripper. The threat actor shares their contact information and takes the opportunity to re-advertise their offerings, namely coronavirus phishing methods that they have previously touted for their efficacy.
Misinformation and Disinformation Narratives:
Misinformation and disinformation continues to spread on social media platforms and via chat services. Narratives and major developments observed by Flashpoint analysts include:
Narratives About COVID-19 and Protests: Narratives spreading on various social media platforms in the past two weeks claimed that since "Black Lives Matter" protests have been allowed take place without the same pushback, on public health grounds, as the criticism anti-lockdown protests had received earlier, this must be proof that COVID-19 was a hoax or that the medical community is politically biased.
Some of these narratives returned to the conspiracy theory of a "deep state conspiracy" related to COVID-19 e.g. by falsely pretending that leading officials did not warn people about the health risks of the protests (this claim originated on Instagram and spread to other platforms).
Ahead of a rally in Tulsa, Oklahoma, of president Donald Trump, far-right disinformation actors as well as the Fox News television channel alluded that recent protest movements are proof that the lockdowns across the country were not necessary.
Narratives Attacking Mass Testing and Masks continued spreading: These narratives often claim that testing and contact tracing are a part of a totalitarian or deep-state takeover. Since according to previous experience of countries withdrawing lockdown restrictions both compulsory mask wearing and mass testing is likely to be an important requirement to reopen economies, the spreading of these narratives may cause delays in reopening efforts.
At the same time, malicious attacks on testing and masks often mix with legitimate privacy concerns about contact tracing apps.
Some social media posts and videos have reflected on recent developments to argue that local or state governments deliberately introduce highly restrictive measures, which are sometimes harmful (e.g. mask-wearing, which some posts have labeled harmful and some ineffective) in order to experiment on people before launching a statist takeover or ushering in a "new world order."
Some of the material in this category builds on earlier narratives (which are still actively shared) that claim that the "real" mortality rate of COVID-19 is much lower than "official" figures. Similarly to narratives attacking mask wearing, this type of content benefits from the constant evolution of the science around COVID-19.
New Content from Fake Whistleblowers: The pandemic has given rise to a number of influencers who have often appeared in videos spreading misleading information or disinformation and who have attained an almost cult-like following in anti-vaxxer circles and extremist communities by virtue of their appearing as authoritative figures. An example is Judy Mikovits, an anti-vaxxer who appeared as a whistleblower in the "Plandemic" video. In the past weeks several of these fake whistleblowers continued posting content, which quickly spread in social media groups, primarily on Facebook and on extremist platforms. They included:
Two videos by Rashid Buttar, a known disinformation influencer, one purporting to show incriminating "undercover footage of the World Health Organization (WHO)", and one, in which Buttar claims that social distancing guidelines are a government plot to control citizens with military satellites.
A video featuring Marie Olszewski, a traveling nurse and anti-vaxxer who worked in New York's Elmhurst Hospital and claimed that the hospital intentionally inflated the COVID-19 death count. Olszewski's video highlights the risks of conspiracy theorists and anti-vaxxers going "undercover" as contact tracers, which DeAnna Lorraine Tesoriero, a congressional candidate proposed.
African Narratives: As COVID-19 has spread in Africa, so did misleading content about the actions of authorities and fake cures. Flashpoint analysts do not actively monitor all of these narratives, but below are two narratives that Flashpoint observed spreading on the French-language internet:
Several sites and posts on social media platforms claimed that French President Emmanuel Macron said he would forbid the entry of all Africans to Europe if they refuse to be vaccinated against COVID-19. The claim is completely false and has been debunked, but even a fact-checking video has become the means of a disinformation campaign after it was deceptively cut and re-uploaded to various social media platforms.
Medical misinformation about the alleged beneficial effects of the herbal tonic presented by the president of Madagascar, Andry Rajoelina, spread across Africa, especially in French-speaking countries. The story has led to further misinformation narratives about an ongoing debate between Madagascar and the WHO. The newest strain of misleading content claimed that the tonic successfully cured dozens of people in Chad.