Blog
Physical Threat Assessment: What to Know About the 2022 Qatar World Cup
From accusations of human rights abuses and corruption to negative reactions from religious extremists, the 2022 World Cup in Qatar has been no stranger to controversy.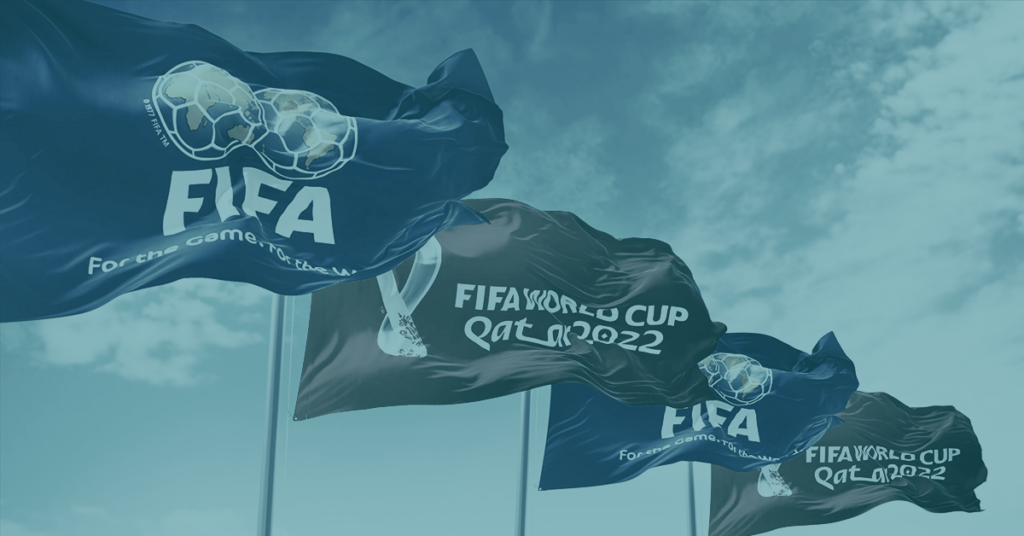 Table Of Contents
Background
On November 20, the FIFA World Cup 2022 will commence in Qatar. Thirty-two teams will play 64 games at 8 stadiums, concluding on December 18. The State of Qatar spent an estimated $220B building the infrastructure needed to host the games; approximately 1.5M fans will travel to Doha, Qatar's capital.
The controversy surrounding the 2022 World Cup is fueled by reported human rights abuses, the environmental impact of hosting the tournament, alleged corruption within FIFA bidding, a supposedly weak Qatari soccer culture, the country's strict laws against same-sex sexual activity, and more. Qatar is the first predominantly Muslim country to host the World Cup. It has published advice for visiting spectators with specific guidance on the use of alcohol and drugs and local expectations regarding public displays of affection. Together, these concerns have led various people—including soccer fans, officials, players, and teams, as well as broadcasters—to call for a boycott of the tournament.
For organizations with interests in Qatar, it's vital for corporate and physical security teams to gain a firm understanding of risk related to the 2022 World Cup. In this article, we outline key developments.
Boycotting
In the lead-up to the tournament, several countries called for teams to boycott the event. However, no team due to compete at the tournament has withdrawn. The Norwegian Football Federation called for teams to boycott the tournament, citing accusations of human rights abuses of migrant workers in the Gulf states, but the organization later voted against the measure.
FIFA President Gianni Infantino and FIFA Secretary General Fatma Samoura have urged teams participating in the tournament to "focus on the football" and not "allow football to be dragged into every ideological or political battle that exists." The captain of the French national team, Hugo Lloris, recently agreed that there was "too much pressure" on players.
Despite no team withdrawing from the tournament, several cities worldwide have canceled plans to stage large public showings, known as "fan zones," of the tournament. These include several cities in France, Spain, and the United Kingdom. The French cities Bordeaux, Lille, Marseille, Paris, Reims, and Strasbourg will all refrain from setting up large viewings of the World Cup due to concerns over the environment and human rights abuses.
Support for LGBTQIA2S+
The Australian national team previously spoke out against Qatar's human rights record, even releasing a video of several players urging Qatar to abolish laws criminalizing same-sex relations and criticizing Qatari employers for their alleged mistreatment of migrant workers who have been building facilities for the World Cup finals. Denmark had announced "statement" jerseys, but those were later nixed. Captains of several soccer teams have confirmed they will wear "OneLove" armbands in support of LGBTQ+ people, to protest against Qatar's anti-homosexuality laws.
In October, British LGBTQ+ rights campaigner Peter Tatchell was arrested and detained by Qatari authorities after staging a one-person protest challenging the country's treatment of LGBTQ+ people ahead of the World Cup.
Bribery concerns
In May 2011, a whistleblower alleged that Qatar may have bribed senior FIFA officials to win its bid to host the World Cup. One source claimed that Qatar paid multiple representatives of African countries $1.5 million. This source later retracted their statement.
In March 2014, allegations surfaced that Qatar had paid then-FIFA Vice President Jack Warner nearly $2 million. In June 2014, correspondence and bank statements allegedly indicated that Mohammed bin Hammam, a Qatari soccer administrator, paid various officials a total of $5 million before the country was awarded the 2022 World Cup bid. A 2014 FIFA investigation cleared Qatar of the bribery claims, though investigations continue in Switzerland and France.
In 2019, new information surfaced claiming that before the World Cup vote, the Qatari state-owned media outlet Al Jazeera offered to pay FIFA $400 million for broadcasting rights during the tournament, with an extra $100 million contingent on Qatar winning the bid. In April 2020, the US Department of Justice asserted that representatives of Qatar did bribe FIFA officials to support Qatar's bid to host the tournament.
Environmental concerns
Concerns have also been raised over Qatar's climate and the country's suitability to host FIFA games, which are usually held during the summer. Consequently, FIFA and Qatari officials chose the month of November to address weather concerns while also attempting to limit conflicts with regular soccer seasons, which typically run from August to May. To combat high temperatures, Qatar constructed stadiums equipped with outdoor air conditioning to regulate temperatures for players and spectators. While Qatar claims the energy necessary for hosting the tournament games will largely come from solar power panels, many critics are not convinced and are concerned with the environmental impact of providing outdoor air conditioning for such expansive arenas.
Migrant worker controversy
Reports have also emerged alleging that many migrant workers who contributed to constructing the infrastructure for the World Cup facilities in Qatar were not fairly or fully compensated, were forced to pay recruitment fees to attain the jobs, and suffered uncompensated injuries. In August, at least 60 migrant workers were detained and later deported from Qatar after 200 migrant workers protested over unpaid wages and worker rights.
In addition, poor working conditions reportedly resulted in deaths that have not been addressed. International human rights groups have pressured FIFA to compensate migrant workers in Qatar for their mistreatment. According to FIFA, as of December 2021, the organization paid a number of workers $22.6 million. In May 2022, human rights organizations called for FIFA to allocate $440 million as compensation for the abuses. The Qatari government denies that workers are still being exploited.
Negative reactions from religious extremists
As the first predominantly Muslim country to host the World Cup, Qatar has received backlash, as well as threats, from religious extremists, including ISIS sympathizers and Anjem Choudary, who is considered one of the UK's most prominent jihadist preachers and radicalizers. Critical rhetoric from these global extremist sources could potentially inspire or spur real world violence related to the World Cup.
Analysts identified several nonspecific threats toward Qatar among pro-ISIS supporter online communities. Chatter was primarily critical of Qatar's decision to host the tournament, citing a supposed lack of adherence to Islamic teachings.
Anjem Choudary has known ties to extremists and has previously been convicted, in the UK, for his open support for proscribed terrorist organizations. On Twitter, Choudary claimed that the decision by the Qatari government to host the tournament was "NOT Islamic" and accused the Qatari government of collaborating with "enemies of Muslims." Though Choudary has since been banned from Twitter, he will likely continue to share rhetoric critical of Qatar throughout the World Cup on other platforms.
Security preparedness
With a population of approximately 2.9 million, the expected influx of visitors will likely place significant pressure on Qatar's security forces, public transport, and hospitality industry. As a result, Qatar has taken steps to bolster its security preparedness for the World Cup. Qatar has signed multiple agreements with allied foreign countries—such as Morocco, Pakistan, Turkey, and the UK and—to send additional troops to handle the expected crowds. The incoming troops include thousands of riot police, special forces, and bomb experts. The US Department of Homeland Security, for instance, has trained Qatari forces on how to properly screen baggage, detect fraudulent documents, and identify suspicious individuals.
Football hooliganism
Typically, large soccer tournaments featuring European nations attract elements of football hooliganism—violence associated with soccer matches, and often between rival soccer team fans. In preparation for the World Cup, several countries, including England and Wales, have banned over 1,300 supporters from attending the World Cup games due to their previous involvement in soccer-related violence.
The cost and logistical challenges of traveling to Qatar from Europe, coupled with Qatar's strict laws, may decrease the likelihood of large-scale incidents of soccer-related violence throughout the tournament.
Get Flashpoint on your side
Any organization's security capabilities are only as good as its intelligence. Flashpoint's suite of tools offer you a comprehensive overview of your threat landscape and the ability to proactively address risks and protect your critical data assets. To unlock the power of great threat intelligence, get started with a free trial.