Blog
Taking Action With Flashpoint Finished Intelligence: A Cornerstone of Effective Decision-Making
Finished Intelligence helps security teams of all sizes achieve their mission daily, whether stopping cyber attacks, preventing fraud, or bolstering physical security.
Table Of Contents
Cornerstone of Effective Decision-Making
Producing timely, relevant, and actionable intelligence at scale is integral to the success of a threat intelligence and risk remediation program. But it simply isn't feasible for many organizations due to the extensive resources, bandwidth, and subject-matter expertise it requires. Unlike automated threat feeds or keyword alerts, finished intelligence is actionable reporting that's primed for stakeholder decision-making. That's why Flashpoint's Finished Intelligence is the core component of our offering.
Flashpoint Finished Intelligence is the product of our intelligence analysts' specialized subject-matter expertise and our comprehensive collection strategy that spans illicit communities across a myriad of platforms, including encrypted chat services and open-web sources. Based on Flashpoint's signal-rich collections—and in alignment with customers' priority intelligence requirements—our intelligence analysts produce various intelligence reports each week, available directly within the Flashpoint Intelligence Platform. Topics and categories include (but are not limited to):
Tactics, Techniques, and Procedures (TTP) Insights
Since threat actors operate around the world and in a number of languages, producing comprehensive intelligence requires a team of specialized analysts who understand the native language and underground slang of adversaries in order to identify significant developments in key regions. Moreover, since many threat-actor communities are fraught with spam, false claims, and other noise, analysts must maintain a discerning eye for a nuanced understanding of these communities' inner workings and cultural dynamics—in order to assess which information is credible, timely, and relevant.
Flashpoint's intel team has the specialized expertise needed to elicit these insights. By leveraging our collections across illicit communities where adversaries exchange advice, tutorials, compromised datasets, malicious tools, and other resources, our analysts provide customers with unique insights into evolving cybercrime TTPs. They help describe trends such as shifting attack methods and marketplace pricing trends in order to help teams anticipate and defend against evolving threats.
Threat Actor Profiles
Whether you're dealing with high-profile cybercriminals, state-sponsored advanced persistent threat (APT) actors, ideologically motivated extremist groups, or even skiddies, understanding the adversary is critical. Our Threat Actor Profiles share analyst insight and analysis on prominent actors' history, preferred tactics, targeting methods, underground presence, as well as known ties to other adversaries.
Recommended: What Does a Cyber Threat Intel Analyst Do? A Look at the Intelligence Professionals Who Bring Threat Intel Programs to Life
Knowledge Base
The threat landscape is constantly evolving, and when new developments are identified, customers need timely intelligence in order to protect their assets, infrastructure, stakeholders, and personnel. The Knowledge Base within the Flashpoint Intelligence Platform is a centralized location where our customers can access up-to-date, analyst-curated intelligence and resource topics when browsing through intelligence reports. Whenever new intelligence is identified that's related to a specific topic, our intelligence analysts update and expand upon the intelligence provided in the wiki-style cyber intelligence repository. Topics include countries/geographic regions, threat actors, tactics, malware, events, illicit communities, and more.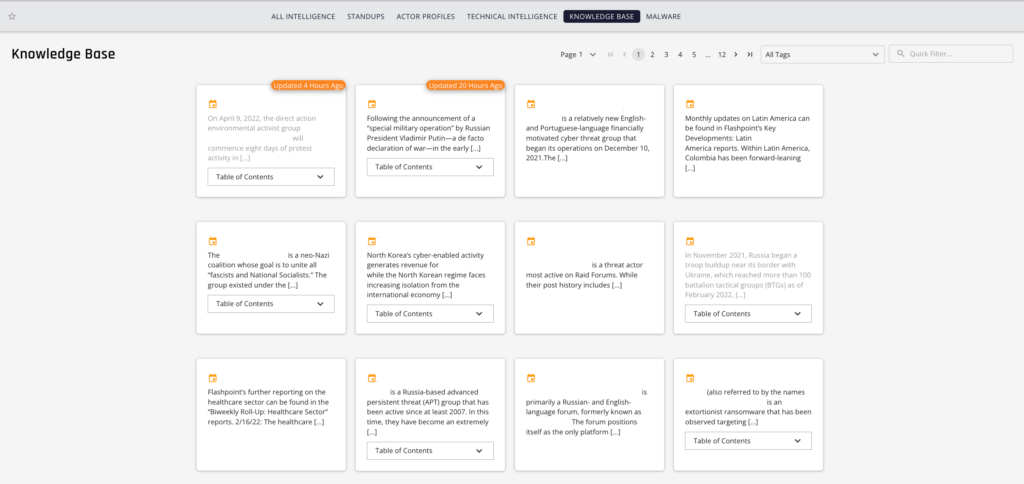 Technical Intelligence
Indicators of Compromise (IOCs) are an essential tool to combat evolving malware threats, but on their own, they present an incomplete picture. Flashpoint analysts supplement IOCs (provided in CSV, MISP, and JSON formats via the Flashpoint API) with insight into the behavior of emerging malware, along with an assessment of the risk it presents and recommended mitigations for defenders.
Flashpoint's Technical Intelligence provides in-depth analysis of identified malware, associated IOCs, community and report mentions, and links to related knowledge repositories for named malware families. In addition to publishing in-depth analyses of high-profile malware strains, Flashpoint also summarizes the week's most-discussed families of malware—indicating which threat actors are selling them on which marketplaces and any recent updates to their functionality, features, or pricing—in a weekly report shared with customers.
Geopolitical Developments
Volatile relations involving nation states and extremist groups have profound implications for governments and private-sector businesses alike. Flashpoint analysts leverage their geopolitical expertise, linguistic capabilities—which spans over 26 native languages—and visibility into the underground operations of politically motivated cyber and physical threat actors to deliver ongoing reporting on developments of interest to our customers.
Trending Vulnerabilities Reports
When it comes to risk-based vulnerability prioritization, one of the most important factors to consider is the extent to which threat actors are discussing a vulnerability. In addition to delivering nearly real-time visibility into these discussions through Flashpoint's CVE Dashboard, we also provide customers with monthly Trending Vulnerabilities Reports that detail the most-discussed vulnerabilities of the past month, along with commentary on related threat actor activities and an assessment of the potential impact of these vulnerabilities.
Related reading: Why the Full Vulnerability Intelligence Picture Depends on Data Beyond CVE/NVD
Daily Standups
Open-source news sites are a valuable resource for keeping up with which threats are making headlines, but digging around for articles relevant to your organization can be a time-consuming distraction. Flashpoint provides customers with Daily Standup briefings that provide concise summaries of the latest headlines, supplemented by insightful analyst commentary and links to dig further into a story.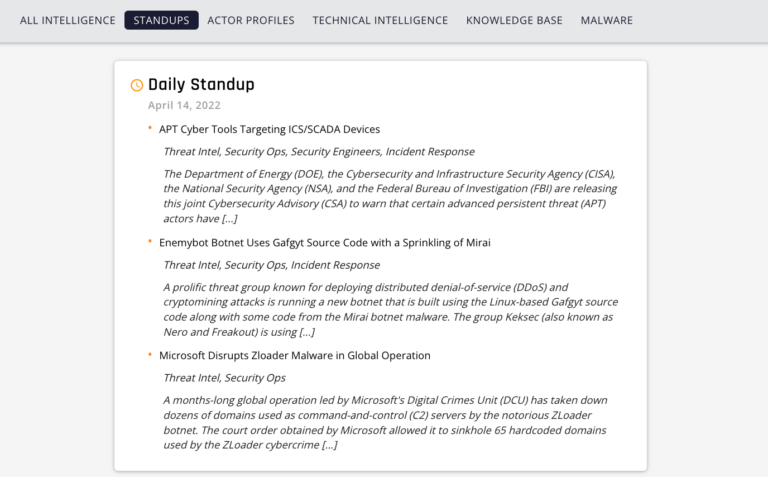 See Flashpoint Finished Intelligence In Action
Request a free trial of Flashpoint to see for yourself how our Finished Intelligence helps security teams of all sizes achieve their mission daily, whether stopping cyber attacks, preventing fraud, or bolstering physical security.