Blog
The Flashpoint Hiring Guide for Engineering Candidates
Hi there, and welcome! If you're reading this it likely means that you're considering applying for a role on the Flashpoint Engineering team—or, you're already in the interviewing process. Either way, we're delighted you're here.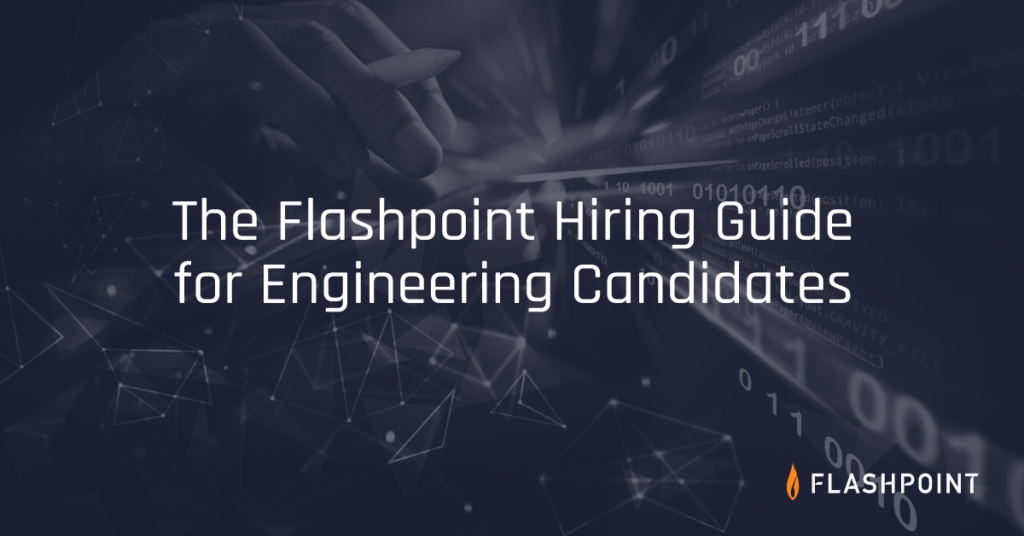 Table Of Contents
Finding a home—the right home—at Flashpoint
Hi there, and welcome! If you're reading this it likely means that you're considering applying for a role on the Flashpoint Engineering team—or, you're already in the interviewing process. Either way, we're delighted you're here.
As you do your due diligence, we've put together a guide to help you evaluate whether Flashpoint is the right place for you. Below, we cover all of the information you'll need to help you along your journey—from preparing for a Flashpoint engineering interview to walking you through our hiring and onboarding process, and hopefully every FAQ you may have along the way. Now, let's get started!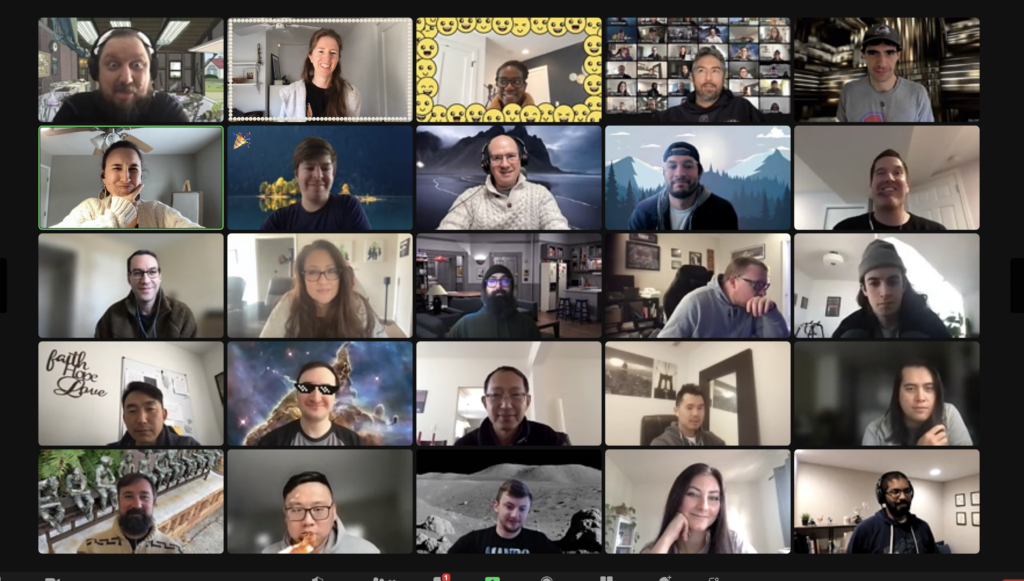 What does Flashpoint do?
Simply put, we help organizations protect their most critical assets, stakeholders, personnel, and infrastructure from cyber and physical security risks. As an engineer, you might work on applications that collect and analyze ransomware, compromised credentials, credit card fraud, dark web communities, and vulnerability exploits.
Related reading: The Evolution of Flashpoint's Data Pipeline, an Engineering Story
Flashpoint Engineering: What drives us and how it impacts our hiring decisions
We value empathy and teamwork above all.
We look to hire people who would feel fulfilled simply by helping someone else out, and to do so without judgment. We encourage camaraderie and trust one another to prioritize what needs to be done.
We believe that empowered, autonomous teams that train and communicate a lot with each other produce the best long-term outcomes.
We do not expect our engineers to come in knowing about the threat intelligence and cyber domains.
We do not expect our engineers to come in knowing all the parts of our stack. We understand the hiring market for engineers is extremely competitive and that your time is valuable. As a result, we emphasize post-hiring training intended to teach you the skills you need instead of expecting you to come in fully-baked.
We look for a growth mindset and we attempt to make our environments as welcoming as possible to people who may not have felt like they were ready or deserving enough to take advantage of opportunities that come their way.
Diversity as an applied value
We seek to build an exceptionally diverse Engineering Department—across gender, race, identity, sexual orientation, background, and more. As we are an intelligence organization, it is our job to detect and remediate risks. Building teams of people who collectively have the broadest perspectives possible will make us more resilient in our products, in our intelligence assessments, and in our professional networks.
We have a diversity and inclusion group focusing on how to improve our recruiting and hiring pipeline as well as our retention of a maximally diverse department.
Life at Flashpoint: Engineering Department Structure
Our Engineering Department was built cloud-first and consists of about 60 people.
We have several product/vertical teams which operate via 2-week sprints and which conduct other agile rituals with the assistance of Product Managers.
We also have horizontal service teams that embed with the other teams. These teams generally use more of a kanban style of organization except for QA, which assists with the product release calendar.
Related reading: Flashpoint Engineering: Heroes of Innovation
Our teams often plan and design projects with other teams, such as the UX and Intel teams.
We believe in maintaining a healthy ratio of reports to manager, and we emphasize that managers actively work on reports' professional development during regular 1-on-1s.
The continuous impact—and opportunity—of COVID-19
Because of the pandemic, our engineers have been working remotely since March 2020.
As of this publishing (Jan 2022), no future policy has been established for when people may return to the office and in what capacity or frequency. This is likely only to change when Flashpoint feels comfortable that its employees won't be put at risk and even then, a company-wide assessment of employees will be conducted.
Prior to the pandemic, Flashpoint Engineering was also very comfortable with fully-remote employees except for very early-career engineers, who benefited from extra in-person time with their team and manager.
Productivity stipend
As of this publishing, Flashpoint employees receive a stipend to purchase equipment that makes their at-home offices as comfortable and productivity-orientated as possible. Some employees have purchased monitor stands, headphones, or other technologies; others go the zen route, buying a calming lamp or scented candle that centers their energy and puts them into a focused state of mind every single morning.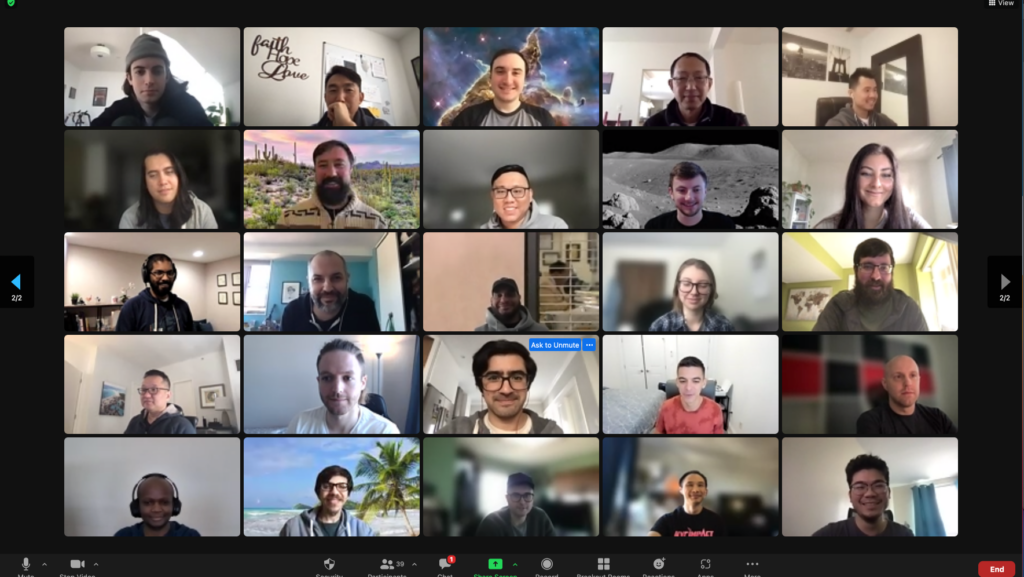 Building rapport with your manager
Flashpoint Engineering managers schedule 1-on-1s at least every three weeks with their reports. These 1-on-1s are geared towards personal and professional development and less on work status updates.
At Flashpoint, your manager should be seen as an active remover of blockers for you and a sponsor for creating opportunities for you to grow, both personally and professionally.
Work-life balance
The Flashpoint Engineering culture has never been that of working early or late or during weekends or holidays. For employees with family or other commitments, Flashpoint Engineering has always provided flexibility and support. Everyone at Flashpoint gets No Meeting Afternoon on Tuesdays to give people some dedicated flow time, i.e. periods during which engineers dedicate themselves to writing code or simply thinking rather than being in meetings to responding to Slack messages.
The importance of family
Many of our engineers have children, or have had children, since joining Flashpoint. Flexibility for scheduling childcare and taking care of those matters is supported and expected from everyone in the Engineering department.
Paid Parental Leave + Resources
Full-time U.S. based team members are eligible to participate in Flashpoint's Parental Leave program. We offer 12 weeks of paid leave time for a primary caregiver, and 6 weeks paid leave time for a secondary caregiver. If you are expecting, our People Ops team will spend dedicated time 1-on-1 to help you understand all of the pillars of support available to you as a Parent at Flashpoint, such as the Anthem Future Moms program, WinFertility, One Medical Pediatrics and virtual Lactation and pre/post-partum support and consultation with a medical provider through Live Health Online.
New hire buddy program
Implemented in 2021, every new Flashpointer is paired with an employee from another team in order to build enduring, safe, nurture-driven relationships across the company. In non-pandemic times, new hire buddies might grab coffee or a meal with the new Flashpointer. These days, regular video chats about work and non-work matters are commonplace and encouraged.
Company events: In-person, online, and hybrid
During the pandemic, Flashpoint employees have organized events for groups to meet in person for the fully vaccinated. The company is actively looking for ways to meet for team off-sites in a responsible fashion.
Hackathons!
Flashpoint Engineering has held several hackathons over the years, generally two-day hack periods followed by a half-day of presentations, all during business hours. In 2021, the Engineering team successfully hosted its inaugural Remote Hackathon!
Other events, benefits, and meet-ups
The People team also continued to set up online learning experiences and myriad company-wide events, such as trivia, holiday-themed activities, and other fun diversions.
Flashpointers: Show your expertise
The Engineering Department hosts a Friday Flashpointer during which people present on whatever topics they choose. Past Flashpointer presentations have included topics like technical pen-testing and evaluating other companies' software architectures, as well as raising houseplants and learning about the world of Twitch.
Lunch and Learns
Flashpoint Lunch and Learns provide Flashpoint employees the opportunity to hear from peers from the security community every month. Past Lunch and Learns include presentations given by intelligence community veterans, New York City investors, and security experts from other organizations.
Teams are encouraged to have working sessions, specific training sessions, and regular hang-outs for teammate birthdays and other important life events.
Incident Management
Our SRE (Site Reliability Engineering) team manages the incident management process. While Flashpoint engineers go on rotations with their teams for responding to incidents, we seek to use SRE methodology to improve our systems and processes so that we encounter fewer incidents that require breaks in engineers' schedules.
We form incident teams when problems arise, and then have reviews of the incident reports and post-mortems afterwards, both with a reviewer SRE and with the larger engineering group. We focus on the outcome action items in order to do the dirty work to prevent those incidents from happening again.
The SRE team also holds weekly office hours for people who have questions about building infrastructure.
The Flashpoint Engineering Hiring Process
Please let us know as you start out this process what your time horizon is (so that we can make appropriate offers to you at the same time as your other offers), what information you still need about Flashpoint (so we can add it to this document!), and what else you think would help make a better decision.
Application Screen
Engineering and Talent Acquisition teams are aligned in looking at candidates holistically, and we do not expect candidates to know everything about engineering or threat intelligence. We train our hiring managers to look for growth potential.
This is to say, we are hiring for what you will become, and not necessarily what you are now.
Talent Acquisition Phone Call
This call is conducted by our People Ops team and is intended to prepare you for the rest of the process (including sending you this document). This includes timing on your part, and what level of a role you are looking for.
Hiring Manager Phone Call
During your call with the hiring manager, we want less to validate your technical expertise (we do that in the next stages) and more to evaluate your fit and interest level in the role. Though you technically don't need to prepare much for this, we suggest that you convey your preferences for what type of work you want to do, what you look for in a manager, and ask how your manager would support you in your role.
Take-home test
Flashpoint Engineering has tried out whiteboarding, general take-home tests, and 3rd-party code evaluation vendors. But we feel we get the most signal for the technical evaluation of a candidate from a take-home combined with code review.
We send a take-home test to the candidate with a soft one-week deadline. We feel this gives the candidate flexibility for fitting this out-of-band work into their busy schedules. We feel this also allows candidates who need time to think about a problem before answering it to figure out how best to use their time.
We also design our own code tests so that they test for applicable software development life cycle and deployment traits. We prefer not to test for algorithmic gotchas, but instead want to see evidence of care towards deploying, expanding, and maintaining an application — more in line with what you'd be doing at Flashpoint.
Interview: technical communication via a code review on the take-home test
Instead of whiteboarding on surprise topics, we want to have a couple engineers talk about the take-home test code to get to know the candidate, and for the candidate to learn how our process works.
A candidate will talk to a couple of engineers for about an hour about the code they submitted.
We are looking for understanding of how to solve a problem (through research and consideration of choices, not knowing the most clever answer), but also how to test, deploy, document and maintain it, as those are functions we actually perform at work.
We also want to see that an engineer can communicate at a technical level with other engineers on a subject that is fresh on their mind.
Our goal is to reduce stress for a candidate and get a candidate's best effort, and talking about the code they just wrote instead of new code is one method we use to do that.
Interview: technical and collaborative influence on others
As with the previous interview step, we use structured interviews with pre-planned questions in order to get away from repetitive interviews where interviewers ask you the same questions, and to increase signal by covering different dimensions of your potential impact.
We look for candidates who show potential for force multiplication of other teammates, potential for coaching and mentoring those around them, and for initiative in identifying gaps and rallying efforts to address those gaps.
Offer
At this stage, we provide you with a competitive, equitable offer to bring this process over the finish line. Once accepted, we welcome you as a new Flashpointer!
Welcome to Flashpoint! Onboarding and your new job
We put in significant effort to improve our processes so that as a new hire, you will be able to onboard smoothly and get extra support if you would like it.
We have well-documented pathways for you to start out on when you join Flashpoint, regardless of your level. We provide thorough checklists to help you and your manager get you everything you need.
Some of our teams have 30-60-90 day plans so that you gradually work on more and more difficult systems until you're up-to-speed, performing activities that we've trained dozens of others on and which have well-laid paths.
We build extra exercises you can work on and then get feedback from someone else; this process helps you learn the stack and get to know people. Our goal is to create safe space and time for you to get your bearings and to understand that what you're learning will directly help your progress towards autonomy in the team.
Training
Once you've been onboarded onto your team, we want to continue your professional development. At Flashpoint, we have almost always promoted managers from within instead of hiring for them. And we have a separate non-management track for senior level individual contributors.
We are working on integrating our training with onboarding, so that engineers are continually training using specific examples from our past incident management exercises, from our current stack, etc. We are building a framework where you can pick modules to learn from that help you directly get familiar with our tooling; you might fix a broken Ansible playbook, or debug a networking issue that caused a recent outage for us and which was added to our training as a result of an incident post-mortem.
We are also required to provide resources for extra annual secure development training.
We provide access to 3rd-party learning resources which you can customize to your educational goals.
At Flashpoint, we see most software engineers do not have a security background or experience working on supporting analysts for vulnerability remediation, fraud, etc.
That is part of the reason we lean in to provide thorough onboarding and training. Since we know we will need to train our engineers on a domain that is relatively poorly understood, this also gives us the opportunity to use the same internal tooling to train on software engineering and our stack.
And through this training, we hope to not only identify your talent faster, but develop it so that you grow professionally during your tenure at Flashpoint.
We grow our engineers through training and through providing opportunities for growth via tech leading projects, cross-team initiatives, etc.
We have career pathing documentation that provides a track for engineers to know how to improve in order to get promoted or where they can cross over into similar roles.
Some concluding thoughts
We want you to grow as an engineer while with us. You will get solid experience working with multiple teams creating and maintaining production systems. You will also gain experience working on cross-trained teams where individual team members actively participate in vulnerability remediation, incident management, and Continuous Integration, Deployment, and Delivery. Your working environment will support your growth as your team and the company grow. You will have the opportunity to implement new technology instead of always being locked in to decisions made years ago.
We want to train you to always leave things better than you found them, and for you to eventually leave us (if you must!) in a stronger, more successful, happier state than when you first began at Flashpoint.