Blog
Defense and damage: The Iranian UAVs Strengthening Russia's Invasion of Ukraine
Although Iran initially took a public position of neutrality in the Russia-Ukraine war, it is now supplying UAVs to Russia, which boasts one of the largest and most technologically advanced uncrewed aerial vehicle (UAV) arsenals in the Middle East.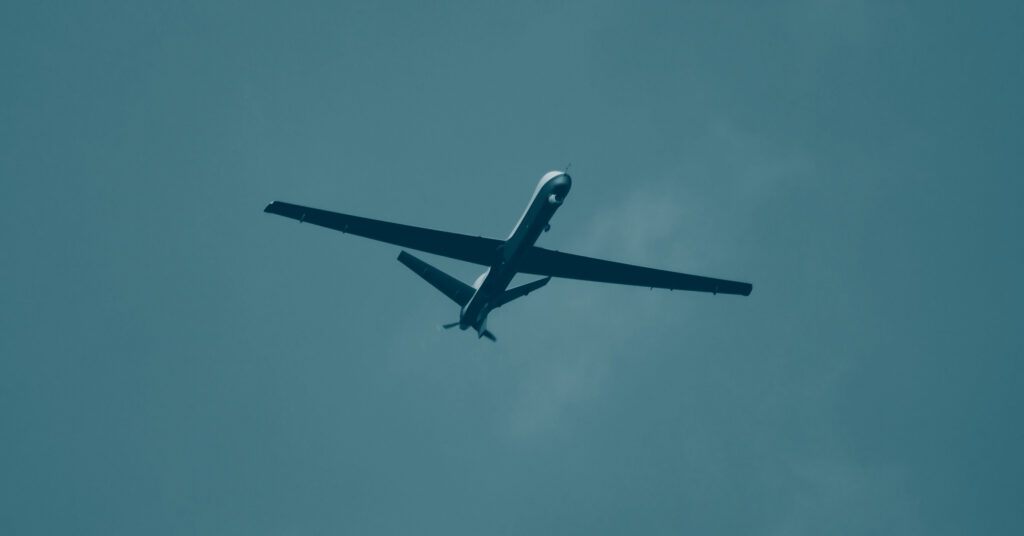 Table Of Contents
Iran's UAVs
In order to address its decreasing military inventory, Russia is partially leaning on Iran to bolster its weapons supply. Although Iran initially took a public position of neutrality in the Russia-Ukraine war, it is now supplying UAVs to Russia, which boasts one of the largest and most technologically advanced uncrewed aerial vehicle (UAV) arsenals in the Middle East. This is in part due to Iran's acquisition of UAV technology through both physical and cyber means, and subsequent reverse engineering of the technology.
Iran's current inventory includes UAVs for reconnaissance purposes, armed combat UAVs, and "kamikaze" drones which serve a similar purpose to cruise missiles. The Shahed-136, for example, is a delta-wing kamikaze UAV reportedly capable of carrying an explosive payload of approximately 80 pounds. This UAV is now in the hands of Russia and is being actively used against Ukrainian forces.
In addition to supplying Russia, Iranian UAV technology has been proliferated to many of its regional armed proxy groups, which have been used against Iran's adversaries throughout the Middle East. Iranian UAVs in the Middle East, whether used directly by Iran or its proxies, now pose a significant threat to the security of the region as a whole.
UAVs + OSINT: Shipments, sales, and sanctions
On July 11, US National Security Adviser Jake Sullivan revealed Russia's intention to purchase hundreds of Iranian-made uncrewed aerial vehicles, or UAVs, to bolster the Russian war effort in Ukraine. At the time, Sullivan also announced that the Iranian UAVs being considered for purchase included UAVs capable of being weaponized, and that Iran would begin training Russian troops on how to use these UAVs.
On August 19, a little over a month after Sullivan's announcement, Russia received its first shipments of Iranian UAVs. These first shipments included Iranian UAVs "Mohajer-6," "Shahed-129," and "Shahed-191"— all of which are capable of being armed with munitions designed to be air-dropped.
On September 8, the US Treasury Department's Office of Foreign Assets Control (OFAC) sanctioned several Iranian entities for their direct involvement in either the shipment of Iranian UAVs to Russia or the design and production of Iranian UAVs purchased by Russia.
Related reading: Situational Awareness in Russia: Neo-Nazi Mercenary Groups, PMCs, and Illicit Financing
On September 13, the first on-the-ground evidence of Russia's use of Iranian UAVs in Ukraine was revealed after the Ukrainian military announced and shared photo evidence that it had successfully downed an Iranian "Shahed-136" UAV (aka "Gol Shamadani-2") near the frontline Ukrainian town of Kupyansk. Images of the downed UAV showed that it was marked "Geran-2" ("Geranium-2") in Russian Cyrillic characters, which is not a name corresponding with Russia's known UAV inventory.
Also on September 13, the first alleged video evidence of an Iranian "Yasir" (aka "Sayeh-2") reconnaissance UAV flying over a combat area in Ukraine was shared within unofficial Persian-language Telegram channels. The Yasir reconnaissance UAV is based on Boeing's ScanEagle UAV, which is currently in use by the US military.
On September 18, a Persian-language Telegram channel alleged that Russia had purchased 1,500 Iranian kamikaze UAVs, with the majority being Shahed-136s. Additionally, the channel alleged that Russia had also purchased 300 combat and reconnaissance UAVs. Although the channel did not specifically state the types of combat and reconnaissance UAVs, the combat UAVs likely include Iranian Mohajer-6, Shahed-129, and Shahed-191 UAVs. The reconnaissance UAVs purchased by Russia likely include the Yasir UAV. Flashpoint cannot independently confirm the number of UAVs claimed by this Telegram channel, which currently has nearly 50,000 subscribers as of this publishing. The channel has been used primarily to report on Middle East regional conflicts, predominantly in Syria, through a pro-Iran lens.
Damage: Shahed-136s
Russia appears to be using Iranian UAVs in response to Ukraine's "stunning" counteroffensive in the Kharkiv region, which began on September 5. Ukraine's 92nd Mechanized Artillery Brigade on the front line in the Kharkiv region has so far experienced the heaviest number of Russian attacks using Iranian Shahed-136 UAVs. According to Colonel Rodion Kulahin, the commander of the 92nd Mechanized Artillery Brigade, these UAVs were witnessed flying over multiple armored and artillery positions northeast of the Kharkiv region.
Shahed-136s in the area are reportedly being flown in pairs to strike artillery and armor positions. As of September 17, Shahed-136 attacks had reportedly destroyed two Ukrainian 152 mm self-propelled howitzers, two 122 mm howitzers, and two infantry armored personnel carriers.
Ukraine's Operational Command South has also reportedly encountered Iranian Shahed-136s in the eastern city of Nikopol in the Dnipropetrovsk region and the southern city of Ochakiv in the Mykolaiv region on the coast of the Black Sea.
On September 18, a Ukrainian artillery officer was reportedly killed by a Russian attack using an Iranian Shahed-136 UAV in the Kharkiv region. The total number of casualties resulting from the use of Iranian UAVs in the war in Ukraine is not known at this time.
Ukraine's response
Ukraine has several types of air defense systems designed to counter larger military aircraft, missiles, and rockets, such as the High Mobility Artillery Rocket Systems (HIMARS) and the National Advanced Surface-to-Air Missile System (NASAM). However, the Ukrainian military has been relying primarily on traditional antiaircraft guns and small arms to counter kamikaze UAVs, as the low altitude and high speed with which the Shahed-136 flies make it difficult for Ukraine's current air defense systems to detect.
In response to Russia's use of Iranian UAVs against Ukraine, Ukraine has requested intelligence from Israel on Iranian UAV shipments to Russia. Based on the extensive support so far in the war, it should be expected Ukraine is also seeking similar counter UAV assistance from NATO.
Get Flashpoint on your side
Any organization's security capabilities are only as good as its threat intelligence. Flashpoint's suite of tools offer you a comprehensive overview of your threat landscape and the ability to proactively address risks and protect your critical data assets. To unlock the power of great threat intelligence, sign up for a demo or get started with a free trial.