Blog
Exclusive Interview with Iraqi Shiite Insurgents Usbat al-Thaereen
Tech-savvy Iraqi Shiite insurgents firing rockets at U.S. troops in Iraq are now announcing their operations in advance on Telegram. In an exclusive interview with Flashpoint, an Usbat al-Thaereen spokesman scoffs at skeptics who claim the group is an Internet fantasy, and touts the sophistication of its "locally developed" reconnaissance drones.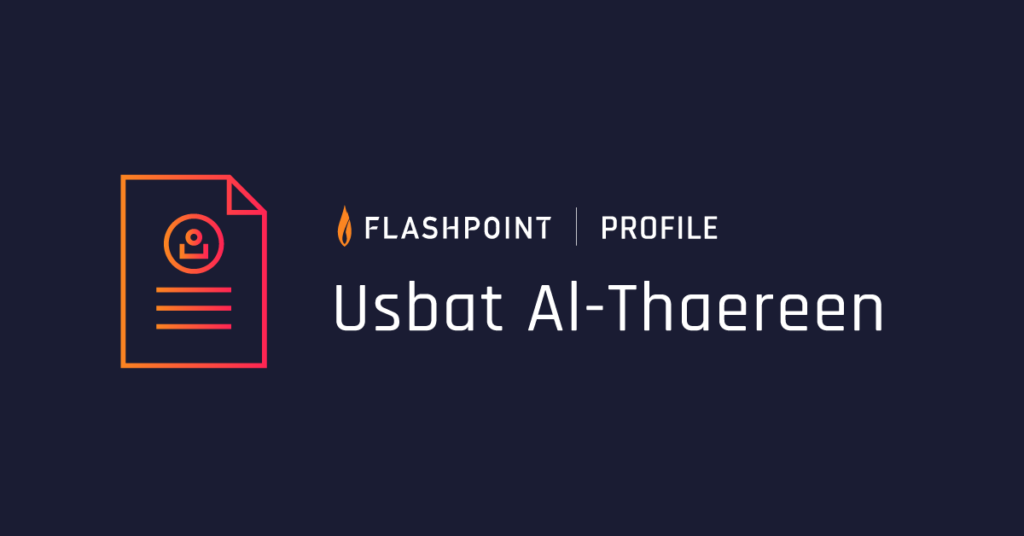 By Evan Kohlmann
Tech-savvy Iraqi Shiite insurgents firing rockets at U.S. troops in Iraq are now announcing their operations in advance on Telegram. In an exclusive interview with Flashpoint, an Usbat al-Thaereen spokesman scoffs at skeptics who claim the group is an Internet fantasy, and touts the sophistication of its "locally developed" reconnaissance drones.
In the wake of a January 2020 American airstrike in Baghdad that killed Iranian Islamic Revolutionary Guard Corps (IRGC) Quds Force leader Qasem Soleimani and Iraqi Shiite militia commander Abu Mahdi al-Muhandis, U.S. military bases in Iraq–along with the U.S. embassy in Baghdad's Green Zone–have been subjected to a steady stream of reprisals in the form of Katyusha rocket attacks. While there is still some debate over precisely who is responsible for launching these rockets, many of the most recent such incidents have been claimed by a shadowy nascent armed Iraqi Shiite faction known as Usbat al-Thaereen. The administrator of the pro-Shiite "Sabireen News" Telegram channel–who assisted in connecting Flashpoint with representatives of Usbat al-Thaereen–asserts that the group is responsible for more than 90% of the Katyusha rocket attacks that have taken place in Iraq during the first six months of 2020.
During an exclusive interview with Flashpoint, an Usbat al-Thaereen spokesman explained that the group was "created by a group of mujahideen, following the targeting of the martyred leaders, al-Hajj Abu Mahdi al-Mohandis and Hajj Qasim al-Soleimani… we took it upon ourselves to take revenge and to expel the occupiers until our last breath." It is squarely focused on expelling Western "occupation forces" from Iraq and, at least for now, has taken no role in battling against an ongoing ISIS resurgence: "The forces currently on the ground are sufficient to fight ISIS, and if there is a need, we will intervene."
Usbat al-Thaereen first publicly emerged in March 2020, in the immediate aftermath of two deadly attacks on U.S. military forces at Taji Air Base in northern Baghdad. On March 11, Camp Taji was attacked with a barrage of 15 rockets that killed two U.S. nationals along with a British soldier, and left 14 other U.S. soldiers, contractors, and assorted personnel injured. Three days later, on March 14, Taji Air Base was attacked again–this time with more than 25 107mm Katyusha rockets–wounding a total of seven people, including five U.S. and coalition soldiers. In response to the rocket attacks, the U.S. military accused pro-Iranian Shiite militia Kataib Hezbollah of responsibility and launched punitive airstrikes targeting sites "associated with" Kataib Hezbollah near the Syrian border town of Al-Bukamal and at Karbala International Airport. The U.S. military launched additional strikes targeting "the Nawar Ahmad rocket storage site… the Al Musayyib weapons storage site; and two locations at Jurf as-Sakhr, one for storage of improved heavy rockets and another for propellant production and storage of advanced conventional weapons."
On March 14, 2020, the same day as the second incident at Taji Air Base, Usbat al-Thaereen announced its existence in an inaugural communique issued through the Telegram online chat service–referencing recent rocket attacks in Iraq and narrating how "the assassination of our martyred leaders ignited a fire in our hearts and compelled [us] to force the departure of the occupying forces in a humiliating and degrading manner. What rejoices us is the fear that exists in the hearts of the occupying enemy as a result of our powerful operations." The communique vowed that the "resistance" would "terrorize the enemies of Islam and Muslims" and that attacks in March were "only the beginning." It further explained that "in response to the request of our mujahideen brothers… we declare that this blessed operation (bombarding the occupation base) is ours, and we don't fear anyone by announcing it… We say to the hypocrites among the agents of the evil embassy, ​​'Your days are numbered.'"
The timing of its public emergence led to speculation as to whether Usbat al-Thaereen was an actual independent organization, or whether it was merely a front for Kataib Hezbollah (or potentially another rival Shiite militia) seeking to continue carrying out attacks on U.S. forces in Iraq while maintaining sufficient plausible deniability to avoid further crippling U.S. airstrikes. Another rumor theorized the group was a splinter faction of Kataib Hezbollah that disagreed with the latter's announced decision to temporarily halt further attacks on U.S. forces. When asked about Kataib Hezbollah and their unilateral ceasefire with the U.S. military, a spokesman for Usbat al-Thaereen would only respond, "We ask Allah to bless them as well, as long as they are resisting the American occupation. As it relates to their decision, they know their situation and conditions best." With regards to another prominent Shiite militia in Iraq Asaib Ahl al-Haq, the Usbat al-Thaereen spokesman had similar comments: "We ask Allah that he blesses them, as long as they are on the path of resistance and are fighting the American occupation." The spokesman insisted, "Despite our pride in and love for our mujahideen brothers, we do not have any relationships with them. We can say that what connects us to them is the unity of the principle and a shared goal, which is the resistance and getting the American occupation out of Iraq."
On March 30, 2020, Usbat al-Thaereen issued their second official statement announcing that they had been planning a rocket attack on Ain al-Assad Air Base to coincide with "a secret meeting of the occupying forces commanders, including the Assistant Secretary of Defense, the U.S. Army Chief of Staff, the Deputy Chief of the American Air Force, and a Pentagon representative" but that "the operation was canceled to the presence of several Iraqis near where the meeting was held." The communique added, "our rockets do not miss their targets and the recent operations at Camp Taji are the best evidence."
During the first week of April 2020, Usbat al-Thaereen released video footage allegedly showing reconnaissance drones flying over the U.S. embassy in Baghdad and Ain al-Assad Air Base in western Iraq. The footage appears to have been released by the group in order to embarrass U.S. officials who had spoken publicly of the air defense systems guarding both facilities–and to demonstrate the reach of their technical intelligence in planning rocket attacks aimed at these targets. The group threatened, "What you have seen from the footage of the embassy of evil was not our first reconnaissance operations, nor the last of them." The Usbat al-Thaereen spokesman told Flashpoint that "our drones… are locally manufactured, and were developed to conduct different operations." Asked how Usbat al-Thaereen has been able to fly drones over U.S. diplomatic and military facilities in Iraq despite well-publicized air defense systems, the group's spokesman explained, "Every army has weak points and every defense system has blind spots. We work to identify these weak points and then target them. As mentioned earlier, our drones are locally manufactured… we have capabilities that the enemy would not expect."
In June, Usbat al-Thaereen began to more forcefully claim credit for rocket attacks, officially taking responsibility for a June 8 attack on Baghdad Airport, an attack early on June 11 targeting the U.S. embassy in Baghdad, and additional attacks on Baghdad Airport on June 16 and June 22. To buttress these claims, the group released alleged video footage of the rocket launches. Usbat al-Thaereen also began to post threatening excerpts from Quranic verses on its Telegram channel specifically coinciding with the attacks. Following the Baghdad Airport attack on June 16, Usbat cited Surah Ad-Dukhan in a message on Telegram, "Then watch for the Day when the sky will bring a visible smoke."
Although initially these threats were posted after the attacks had already occurred, by late June, Usbat al-Thaereen began to directly announce new attacks to their online supporters even before the rockets had actually been fired.
At 8:35pm on June 22 (Baghdad local time)–before the attack was launched–the group posted a quotation from Surah al-Fajr, "No! When the earth has been leveled – pounded and crushed." Thirty minutes later, "Sabireen News" posted a picture of the Usbat al-Thaereen logo on Telegram and hinted, "The white Kia has been unloaded"–along with pictures of a white Kia truck and a Katyusha rocket. At 9:34pm, approximately one hour after the initial post by Usbat al-Thaereen on Telegram, the Iraqi military Security Media Cell announced that a rocket attack had indeed taken place targeting Baghdad Airport.
This element of attack forecasting became even clearer in relation to a Katyusha rocket attack targeting the U.S. embassy in Baghdad on July 19. At 8:48am (Baghdad local time), Usbat al-Thaereen posted a new message on Telegram again quoting Surah Ad-Dukhan, "The Day We will strike with the greatest assault, indeed, We will take retribution." Over three hours later, at approximately noon, rockets began impacting in the Green Zone.
While this does not entirely negate the possibility that Usbat al-Thaereen is some type of Kataib Hezbollah offshoot, it is convincing evidence that the group is not to be dismissed outright as the make-believe creation of Internet-based copycats. When asked by Flashpoint what response they could offer to skeptics who suggest Usbat al-Thaereen is a figment of someone's imagination and merely exists in online chatrooms, the group's spokesman scoffed, "Usbat al-Thaereen's operations were witnessed by our enemies before our friends." As to why the group would rely on niche online chat services like Telegram in order to communicate, the response was, "Because we do not have other media platforms since the other media platforms are subject to the occupation and allies' policies, as such we cannot upload our content to them."
Despite launching attacks on "American occupation forces inside Iraqi territory", according to the Usbat al-Thaereen spokesman, "we do not currently operate outside of Iraq. Nonetheless, he had harsh words for several of Iraq's regional neighbors:
"Israel is raping various populations and is the source of terrorism… our opinion of it is the same as that of America. They both represents the hands that support terrorism in the world. As for Saudi Arabia and the UAE, we have clarified it previously, whoever is connected to America is an enemy and any country that supports American projects in the region is an enemy. As for Syria, it is not in a better position then us, due to its suffering from American interventions, and its creation, ISIS. We are aware that what caused the current situation in Syria are American policies in the region."
The group's spokesman was also highly critical of the Iraqi government. In regards to the U.S. airstrike that killed Qasem Soleimani and Abu Mahdi al-Muhandis, he insisted, "The Iraqi government's response did not match at all the size of the heinous crime…there is no appropriate response yet. We consider the appropriate response to be finishing the path of the martyrs… which is to expel the occupying forces from Iraqi territory. Asked whether they had attempted to directly communicate their grievances to Iraqi Prime Minister Mustafa al-Kadhimi, the Usbat al-Thaereen spokesman told Flashpoint, "The truth is that we have no communication with him… we don't consider the current prime minister to be up to the responsibility… our first and last goal is to get the occupation out. Whoever works to get it out is a friend, and whoever seeks to keep it, is an enemy. Our position is steadfast… our only language with the occupation is that of the weapon." The only nation that has been singled out for praise as a desirable partner for Usbat al-Thaereen is Iran. According to its spokesman, the group "seeks good relations with everyone who shares our goals and principles including the Islamic Republic of Iran."
Surprisingly, Usbat's spokesman denied any familiarity with other smaller like-minded armed Iraqi Shiite dissident factions that have sprouted over the past year (such as Ashab al-Kahf and Liwaa al-Muhandis). Conversely, the larger influential Shiite militias like Kataib Hezbollah, Asaib Ahl al-Haq, and Harakat Hezbollah al-Nujaba have conspicuously avoided publicly mentioning Usbat al-Thaereen, perhaps never once by name. Yet clearly, the former are at least aware of its existence–if not openly supportive of its activities. In April, al-Nujaba's official media wing released a new propaganda poster created from Usbat al-Thaereen's drone surveillance video of the U.S. embassy in Baghdad along with the caption, "Our eyes are watching your positions from above."
While neither Al-Qaida nor ISIS have expressed any particular reticence in targeting diplomats and diplomatic facilities, Usbat al-Thaereen has been much more circumspect on the subject. When pressed about the legitimacy of rocket attacks on foreign embassies in Iraq, Usbat al-Thaereen's spokesman defended them, insisted, "Our goal is clear, and we have previously mentioned it, taking revenge for the martyrs and expelling the occupiers. If this goal is achieved, then there will absolutely be no targeting of diplomats… All diplomats are welcome except those from the occupying countries." According to the spokesman, the U.S. embassy in Baghdad is exempt from any kind of protective sanctity typically afforded to foreign diplomats because "it is a military base using a diplomatic cover." Asked what message they would seek to deliver to the U.S. government and the Trump administration, the Usbat al-Thaereen spokesman replied, "You are too weak to remain [in Iraq], and we are too honest to remain silent. Your ending is guaranteed."