Blog
Beyond Gates and Alarms: The Scope and Impact of Physical Security Intelligence
Exploring the role of physical security intelligence, which helps governments and commercial enterprises keep people, places, and assets safe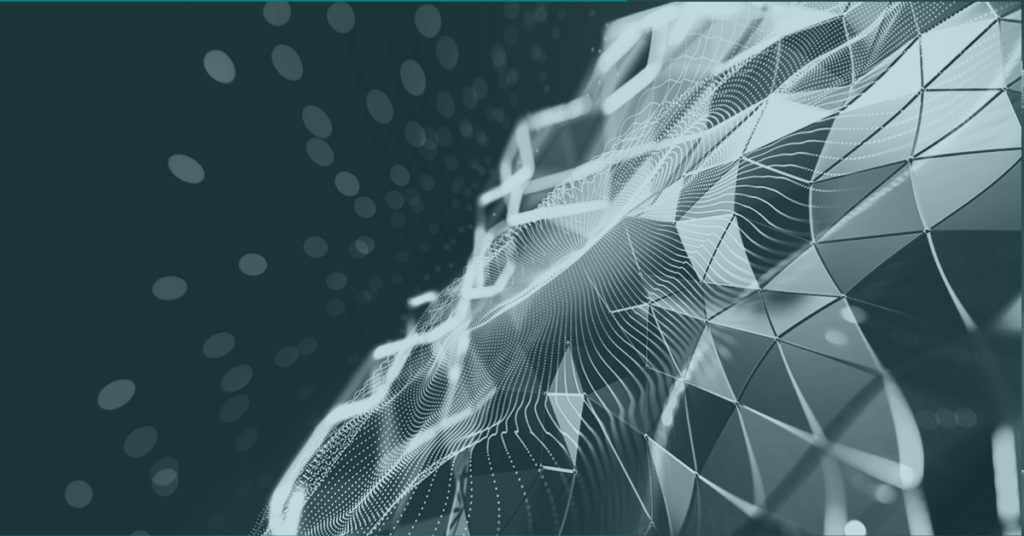 Table Of Contents
What is physical security intelligence?
When most people think of physical security, they tend to think about access control measures or physical security systems like gates, alarms, surveillance cameras, and security guards. These security measures are fundamental to protecting facilities, as well as the people, assets, and infrastructure inside of them. However, there are a number of external factors that these measures fail to address, including the impact of natural disasters, terrorist attacks, and insider threats on physical security.
Why is physical security intelligence important?
That's where physical security intelligence comes into play. Physical security intelligence delivers mission-critical insights into real-time situations occurring globally, empowering governments and commercial enterprises to safeguard, defend, and enhance the security of individuals, locations, and physical assets.
Physical security intelligence is built on external information, including social media and other online channels, and provides situational awareness and insights into potential physical security threats in their earliest stages.
Where physical and cyber threat intelligence collide
Increasingly, cyber and physical threats are interrelated. In fact, most attacks on people, places, and infrastructure involve some degree of online communication: Real-world events are often enabled or bolstered by cyber-related activities, such as when a threat actor uses an online discussion forum or social media network to plan a physical attack.
Decentralized open-source channels like Telegram, which have become an increasingly popular medium for cyber and physical threat actors alike, have eroded long-standing barriers to entry to the deep and dark web. And when that communication takes place in publicly available channels, security teams can use that information to investigate the incident, or ideally, be alerted to early warning indicators and prevent it altogether.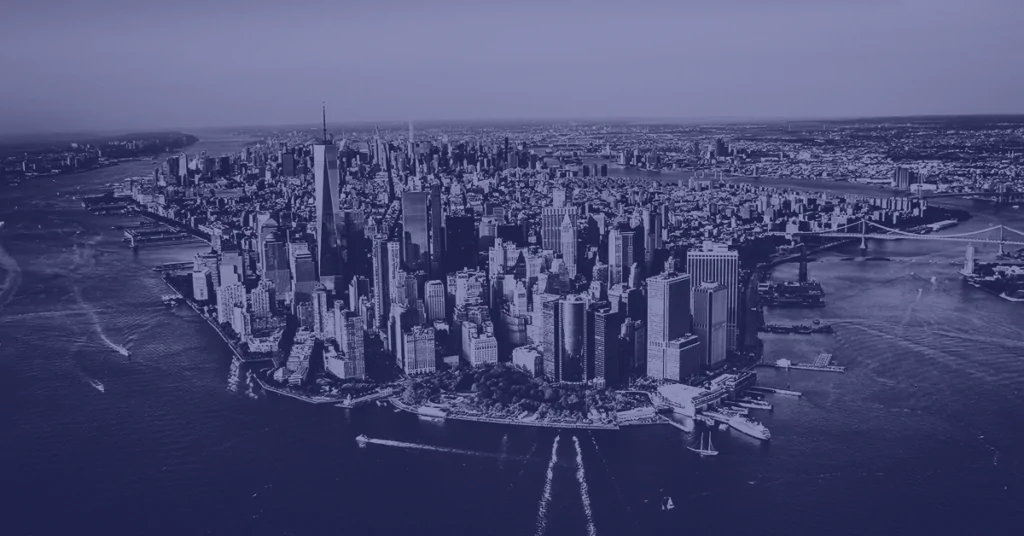 Case Study: Physical Security Intelligence
How Flashpoint Helped the Community Security Initiative (NY) Stop a Potential Synagogue Shooting
The impact of open-source intelligence (OSINT)
Physical security intelligence reduces information gaps and leads to more proactive physical security. For these applications, open-source intelligence is a critical resource.
OSINT involves gathering and analyzing publicly available information to derive meaningful insights. In recent years, OSINT has emerged as one of the most relied-upon forms of intelligence for the US government. Its abundance and low barrier to entry make OSINT increasingly useful for commercial enterprises as well. 
Thanks to the smartphone, open sources like social media often provide the most up-to-the-minute information about breaking events. Tapping into this data gives security and intelligence teams the real-time information necessary for addressing immediate crises and generating timely intelligence. OSINT provides incredible value for public and private sector teams alike, as long as they have the tools and capabilities to gather and analyze the abundance of information effectively.
Examples of physical security intelligence use cases
How understanding physical risk can enable corporate physical security teams and public sector organizations to address a wide range of challenges.
Global situational awareness
Open-source data can improve situational awareness by providing insight related to geopolitics, public sentiment, technology developments, and on-the-ground activities in areas of interest. This is especially true when that data is enriched with geospatial information like where the posts originated, or what locations were mentioned within the post contents and metadata.
Crisis response
Open-source data provides real-time information for events like natural disasters, public health crises, and terrorist attacks. This information helps security teams stay alert to breaking events, assess impacts, and respond appropriately.
Executive protection and force protection
Across the public and private sectors, threats to personnel come from all directions—from unforeseen travel risks to doxing and reputational risks, such as bad press. Leveraging OSINT is crucial for surfacing this information and reducing blind spots, and is a strategic complement to traditional executive protection methods like bodyguards and security cameras.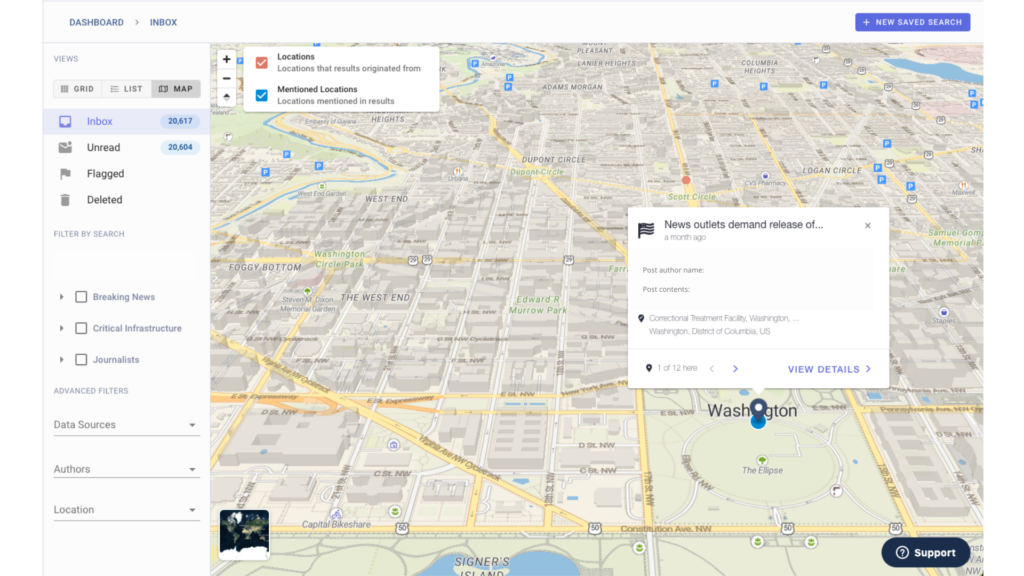 Persistent threat analysis
Persistent security concerns like terrorism rely on social media and other online channels to proliferate. OSINT helps physical security and intelligence teams monitor evolving web-based chatter to improve visibility and defend against those threats.
Insider threats
Social dissent, burnout, and various other factors have dramatically shifted the insider threat landscape. Disgruntled employees may take action against organizations by disclosing confidential data or disrupting business operations, and often discuss these topics online before taking action. Government, healthcare, big tech, and media are especially vulnerable.
Physical attacks
Social media and discussion websites are often used to share violent intent and plan events. For example, the Capitol Hill insurrection was planned online for weeks prior to the attack. Bad actors tend to be more candid in online settings where their identity is anonymous and they are engaging with like-minded communities.
Supply chain disruptions
Disruptions like natural disasters or geopolitical conflicts can halt or delay the flow of goods along the supply chain. Monitoring open sources for these disruptions can provide early warning indicators and help you assess if your organization will be impacted down the line.
Event monitoring
It's vital to have the right physical security intelligence protocols in place to ensure the security of an event and its attendees. Physical security intelligence can augment an organization's overall security and intelligence operations during an event, such as a high-profile conference with global attendees or a smaller affair. Physical security intelligence can include pre-event assessments, daily stand-ups, and monitoring and alerting of imminent and potential threats. Protecting a location—and the people around it—is also essential to strengthening brand reputation.
Flashpoint Ignite for Physical Security Teams
Flashpoint's Physical Security Intelligence (PSI) solution, part of the Ignite platform, gathers open-source data from a variety of online spaces ranging from mainstream social media, discussion forums, fringe networks, messaging apps, and regional sources from around the world. The solution is fast and intuitive and allows users to search, filter, monitor, and analyze the data in a customizable dashboard. User-generated alerts ensure that the right team gets notified if new, relevant content is detected, and enrichments like geolocation, language detection, and threat detection provide valuable context to the information discovered.