Table Of Contents
Over Memorial Day weekend in 2022, a storm covered mountains in south-central Montana in a fresh layer of snow. A couple of weeks later, heavy rainfall and abnormally high temperatures, combined with the snowpack, inundated Yellowstone National Park and surrounding communities with unprecedented flooding.
The disaster destroyed the area's transportation infrastructure, forced the evacuation of over 10,000 park-goers, and damaged hundreds of homes. It also dramatically reshaped the environment as overflowing rivers carved new paths. Damage to the landscape as well as man-made infrastructure could take years and cost over $1B to address—not to mention the economic impact on local communities, which rely on tourism.
Such disasters will happen more often as global temperatures increase due to climate change. A 2021 report on the Greater Yellowstone Area concluded that the area will see more rainfall and rapid snowmelt due to warmer temperatures in the coming years, leading to hazardous flash flooding.
As natural disasters become more frequent, organizations like FEMA (the Federal Emergency Management Agency) must make timely, informed decisions to keep people safe. Here's how open-source intelligence (OSINT), which is derived from public sources like social media, can help emergency management teams address flooding and other natural disasters.
How OSINT supports emergency response
In the last few years, government organizations have realized the value of open-source content for national security. Open-source intelligence (OSINT) derives insights from publicly available information, which now primarily comes from online sources. This includes social media content and other open-source data across the surface, deep, and dark web.
As internet users document real-life events and spread information, these sources are valuable for identifying risks faster and getting a more nuanced picture of unfolding events. Social media content can also be easy to geolocate. This supports more timely, targeted, and informed decisions in response to threats.
For natural disaster response, this could mean finding risk indicators earlier, understanding the extent of damage in real-time, and evaluating what response measures are required and where. A faster and more accurate response can help emergency management teams minimize the loss of human life and damage to infrastructure.
How does social media intelligence help in a disaster?
It enables you to be the first to know
When disaster strikes, time is of the essence. The sooner you know what's actually happening on the ground, the better. The social media response to an event can actually travel faster than the event itself and as a result can be an invaluable method for detecting and coordinating a response.
Every minute wasted is an opportunity to save lives, and by monitoring social media for dramatic events, first-responders and foreign aid organizations can react with speed and timeliness to maximize effectiveness.
It helps you understand the local environment
The 'present' or 'recent' state of the world is well documented through social media and we can take advantage of this in a disaster.
Once something unimaginable happens, external organizations looking to provide aid must understand where to focus and deploy resources. Using social media to understand what was located in a region could easily make the difference between an efficient response or a sluggish one.
Applications that allow geotagging are great for showing first responders where things are (or were) in the area. Geotagged posts from social media users can point to physical locations that can be critical resources. Hospitals, grocery and drug stores, restaurants (for canned goods), and emergency services (fire departments, ambulance) are just a few examples of physical landmarks that could be life-saving.
It helps you see where the problems are
Geolocated social media is a crucial resource for determining the actual impact in the disaster region. As people post from each location, it provides an interactive map for emergency crews to evaluate. Leveraging this technology enables response teams to piece together a ground-level picture of the affected area and plan their response to what is actually going on in the area.
It helps you notice where people aren't posting from
Sometimes, the most telling posts are the ones that aren't there. A true social media 'dark spot' or social media 'black hole,' is so rare that if you find one it's probably for a reason. This is especially true of large, populated areas.
If you search over an area with a date range before the disaster and compare the results with afterward, a noticeable drop in posts can confirm the impact of the damage in that area. In a highly connected world, a lack of social posts likely indicates interference with infrastructure.
OSINT and the 2022 Montana floods
Let's take a look at the 2022 Montana floods through the lens of social media. On June 13th, users began posting on social networks like Reddit about road closures and flooding in and around Montana communities like Gardiner:


By the 14th, dozens of bystanders were posting images and videos of the Montana floods on social media: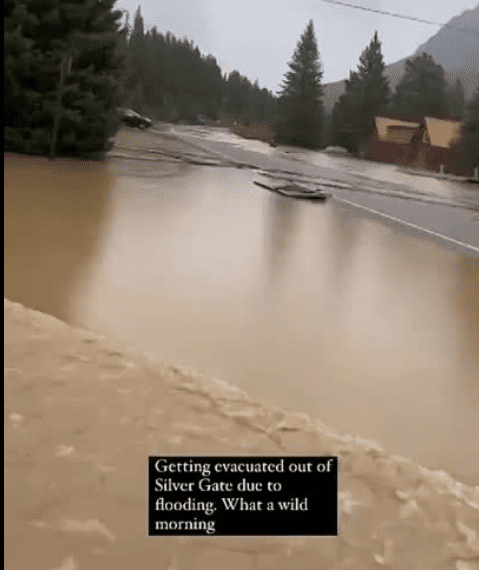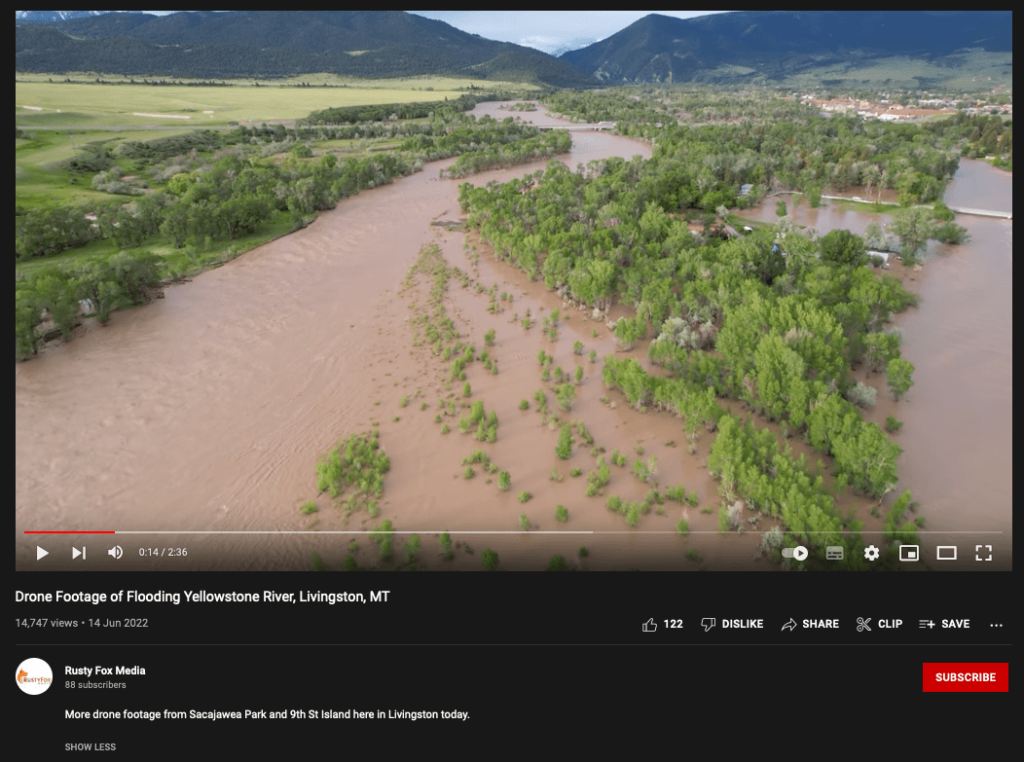 Many of these posts are geotagged or mention specific locations—such as towns or road junctions. This would enable emergency response teams to precisely locate images and videos, assess the damage, and allocate resources where they are needed most. Early warning indicators, like the Reddit posts captured, can also alert responders faster to natural disasters, especially in more remote areas.
Timely response requires OSINT technologies
Challenge: Gathering, geolocating, and analyzing open-source content across a range of networks for disaster response.
Solution: An OSINT search tool that makes it easy to find and geolocate social media content relevant to a specific emergency scenario.
Outcome: Emergency management teams can evaluate the situation and make faster, more informed response decisions to protect people and assets.
If the goal is to respond faster to risks, navigating networks like social media manually for information is not the answer. There's an overwhelming amount of open-source data available on the web, but only a small fraction of this is valuable for disaster assessment and response. Uncovering this information quickly requires OSINT software, which enables users to quickly find relevant information across a variety of sources. Enter: Flashpoint.
OSINT tools vary widely in their data coverage and functionality, but Flashpoint Physical Security Intelligence (PSI; Formerly known as Echosec), is a real-time OSINT solution designed for physical security initiatives like emergency detection and response. How? 
Flashpoint PSI covers an expanse of data sources necessary for emergency response applications. These include mainstream networks where bystanders are more likely to document on-the-ground events and covert sites where users may discuss risks in more detail or spread misinformation.
The system also ingests and displays real-time data, allowing users to create highly specific persistent searches. For emergency management teams, this means accessing the most current information without manually navigating or refreshing web pages. Lastly, Flashpoint PSI supports more targeted emergency response by mapping open-source data geographically.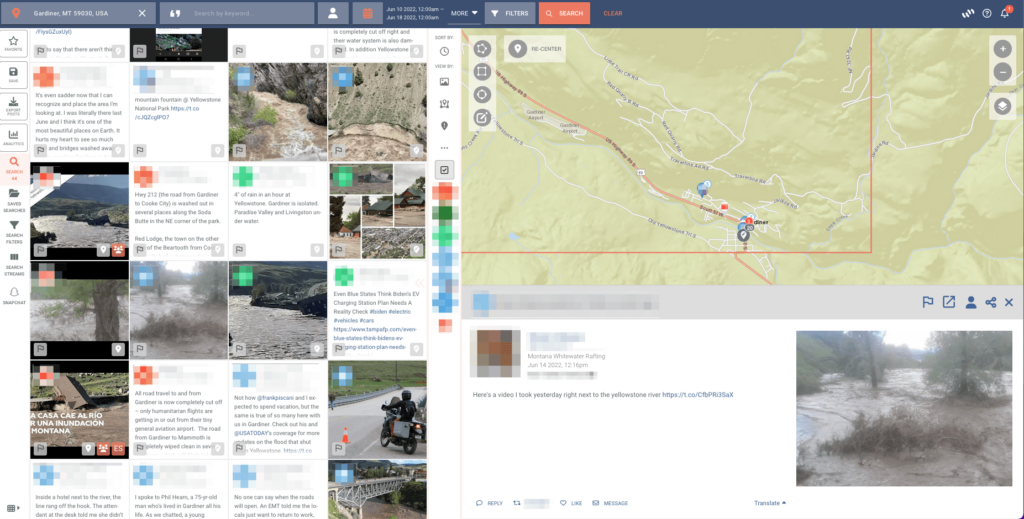 This works for posts that have been geotagged by an author, like the one above—but also for posts that aren't geotagged but still mention specific locations. This feature uses location-inference technology powered by machine learning.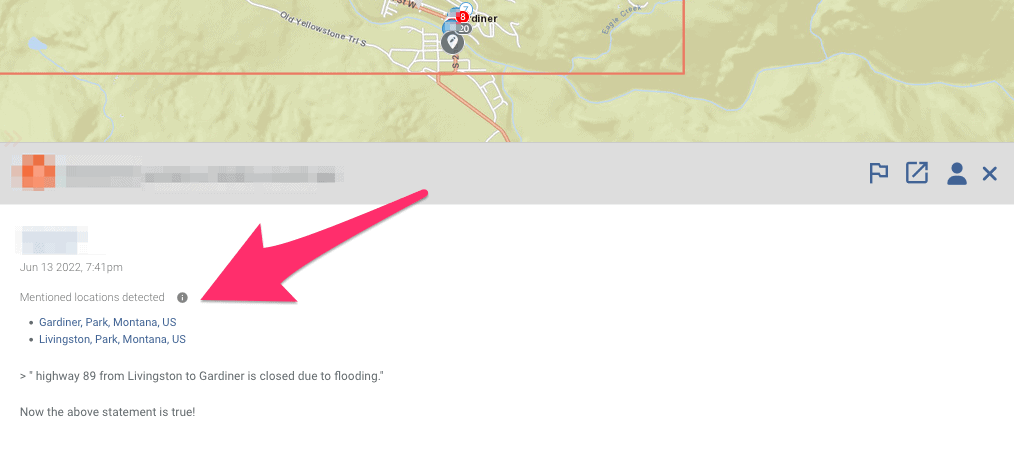 OSINT supports emergency response strategies, often providing valuable insights faster than other information sources. This will become crucial for effective disaster response and recovery as climate change causes events like the 2022 Montana floods to increase in frequency and scale. Citizens rely on emergency management organizations to minimize damage and keep people safe—and OSINT solutions like Flashpoint PSI can help.