Blog
Navigating Executive Protection Challenges: Cyber and Physical Threats Unveiled
Flashpoint solutions for mitigating executive protection challenges, from doxing and event disruptions to travel risk assessments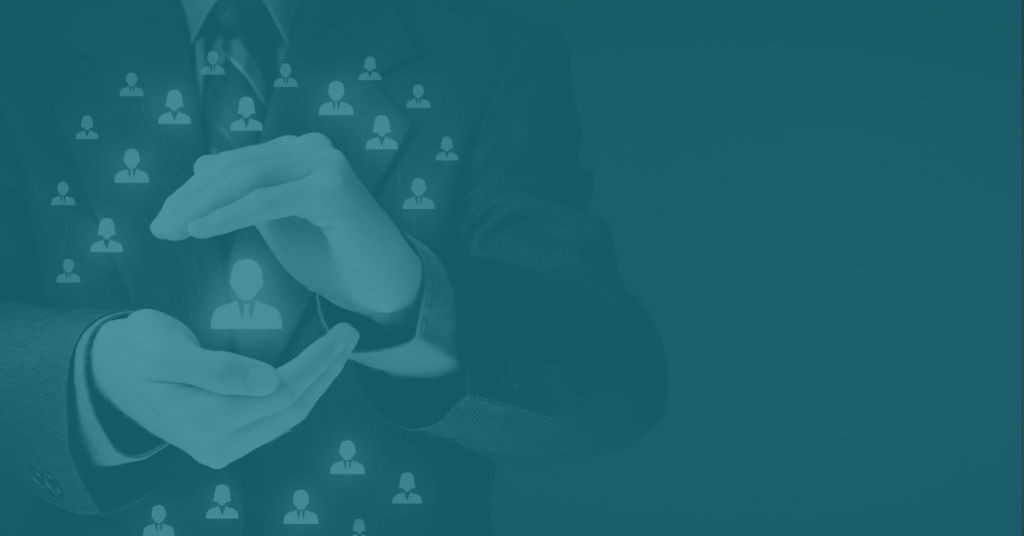 Table Of Contents
Executive protection: Threat landscape
As the information landscape evolves, the imperative to safeguard executives from the dual specters of cyber and physical threats necessitates constant adaptation of tools and tactics.
Organizations and the executives they're responsible for protecting must remain vigilant against emerging threats, necessitating an ongoing commitment to enhancing their protection strategies, as cyber and physical dangers continue to evolve and pose ever-greater challenges to their safety.
Threats to executives can emanate from various sources, including cyberattacks by threat actors and physical security concerns such as public disruptions, conference breaches, natural disasters, and violent extremism. These risks, which can be political in nature, are further magnified when executives travel, participate in high-profile events, or attract significant media attention.
In this dynamic environment, proactive measures are essential to ensure the comprehensive security of high-level personnel—both online and in the physical world, where threats commonly overlap. Here, we present three prevalent executive protection challenges, accompanied by an exploration of continuously evolving solutions.
The interactive demo above illustrates how Flashpoint users can search location-based content across various networks, identifying mentions of specific individuals or topics to promptly detect potential risks, threats, and security concerns. This capability enables a proactive response to safeguard key personnel.
Travel risk assessments
A majority of physical security incidents are planned online, demonstrating the growing relationship between cyber and physical threats. Social media, including platforms in multiple language access across the world, can provide crucial information to security and risk teams who are responsible for protecting key personnel when traveling.
For example, one security consultancy used Flashpoint to aggregate crisis-related content for a client who was traveling to Cairo, Egypt. Utilizing geospatial capabilities, the client could actively track designated locations and keywords, such as specific sites and the names of traveling executives, and receive real-time information and subsequent alerts upon detecting new and pertinent content.
As a result, they received early notifications about the exact location of a fire through public geotagged social media data before it appeared in the news. This allowed them to warn on-site staff, ensuring their client's safety and continuity of plans.
Doxing
Doxing, the malicious act of publishing an individual's personally identifiable information (PII) on the web, is frequently employed as a means of online harassment or hacktivism, with politicians, CEOs, and other high-level executives being common targets. Doxes are typically published on illicit websites across the surface, the deep and dark web, and can include personally identifiable information such as home addresses, phone numbers, emails, SSN, social media handles, financial data, and information about family members. Doxing can also be used to leverage other attacks like phishing and business email compromise (BEC) scams.
In 2020, hacking group Anonymous posted sensitive private information about former Brazilian President Jair Bolsonaro, including details about his financial assets and the home addresses of his cabinet members, on X, formerly Twitter. This occurred during a period when Antifa protests were gaining prominence as a countermeasure to pro-Bolsonaro demonstrations, creating a heightened vulnerability for the disclosure of political addresses online.
A large retail organization uses Flashpoint to uncover threats targeting both executives and store locations. By searching for the organization's name in combination with "dox" as keywords, the company's security team was previously alerted to a post targeted to a C-suite executive that contained their home address, email, phone number, social media handles, and employer details for both the target and their immediate family members. The company then used this intelligence to notify affected individuals and take security precautions—such as requesting content removal, changing phone numbers, and protecting the target's home and whereabouts with private security. They also investigated where this information was obtained, and secured any vulnerable databases or related threat vectors.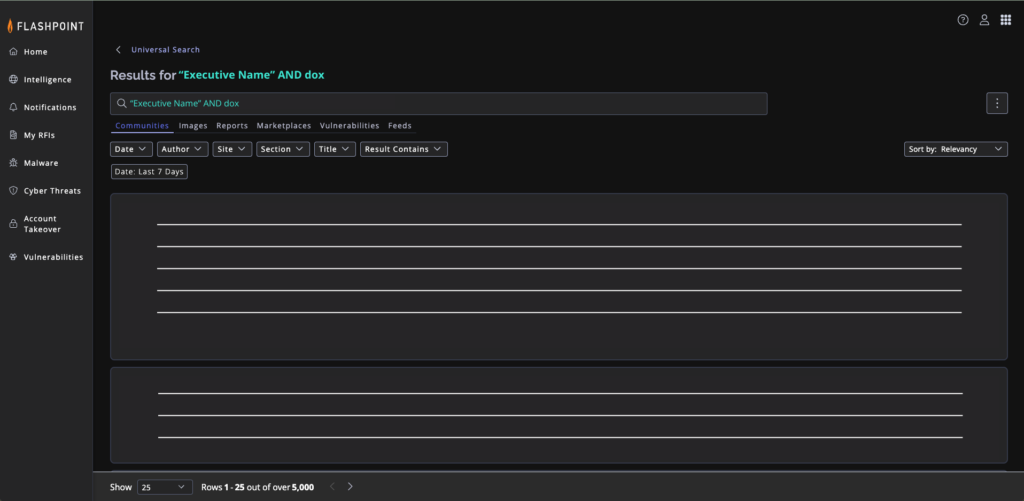 Above: Flashpoint defends executives from doxing and cyber threats by helping organizations detect leaked personal information before threat actors can access it.
Event monitoring
In an increasingly prolific online communication landscape, modern event security is about much more than securing the perimeter. Attacks on high-profile individuals at events are often planned online, and increasingly—such as in the case of the January 6 US Capitol Attacks—the event itself is often planned in public channels, often without the knowledge of local authorities. However, just because a channel is publicly available, doesn't mean it is easy to find.
Related reading: Flashpoint's Key Role in Ensuring Safety and Security at a Global FinServ Brand's Signature Conference
For large scale events, planned or otherwise, the security of the individuals present must be approached via multiple angles including physical security on the ground and physical security intelligence online. Flashpoint provides real-time visibility into the event through social media posts and online discussions, enabling security teams to gain situational awareness from the event and surrounding areas, and be alerted to any chatter targeting executives or suggesting violent intent.
Event organizers used Flashpoint to build digital boundaries around critical locations and set up alerts for social media content originating from those areas. During one particular event, the system alerted the security team of a nearby bomb threat detected in a social media post. The threat was ultimately rescinded, but the experience proved how a timely advisory added a considerable level of safety to the photo shoot and vulnerable people and merchandise. Flashpoint's ability to monitor and analyze social media channels quickly and remotely proved to be incredibly valuable for this brand's event security.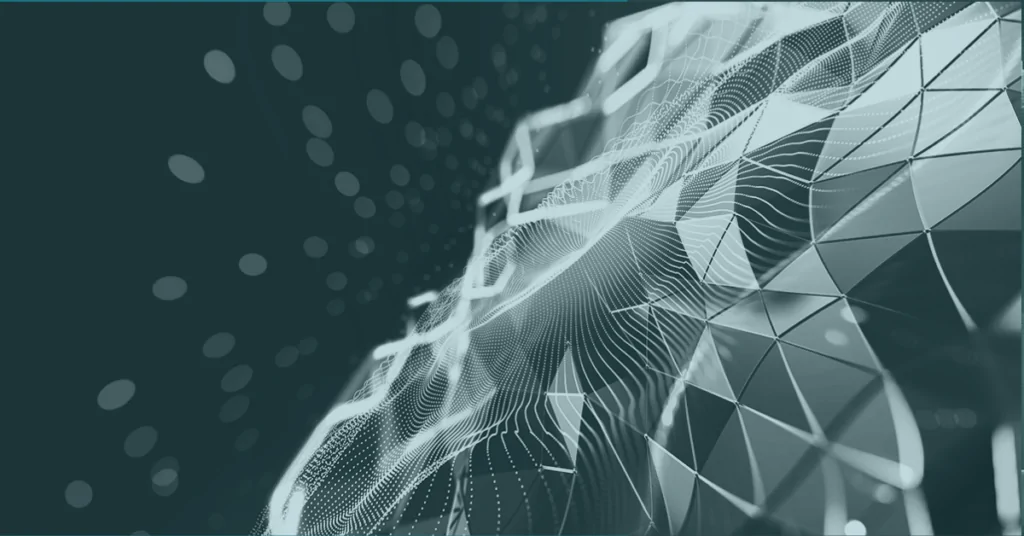 Related reading
Beyond Gates and Alarms: The Scope and Impact of Physical Security Intelligence
Elevate your executive protection
Our comprehensive solutions provide your protective intelligence teams with a 360-degree view of the online threat and risk landscape, helping you ensure the safety of your executives, organization, and assets. Whether seamlessly integrating our data into your existing toolkit, leveraging our intelligence platform, or expanding your team's capabilities with our custom reporting service, we are your unwavering partner in safeguarding what matters most. Invest in peace of mind with Flashpoint today.