Blog
How Russian and Ukrainian Militias Are Using Social Media and Chat Platforms to Recruit Volunteers in the Donbas and Fund Their Causes
As of this publishing, Russia has amassed 190,000 troops along the Ukrainian border, according to U.S. intelligence, in the Donbas region of Ukraine. Despite varying accounts from the frontlines, and constant posturing in the media from both Russian President Vladimir Putin and U.S. President Biden, the prospect of war remains an imminent possibility and not yet an all-out reality, thankfully.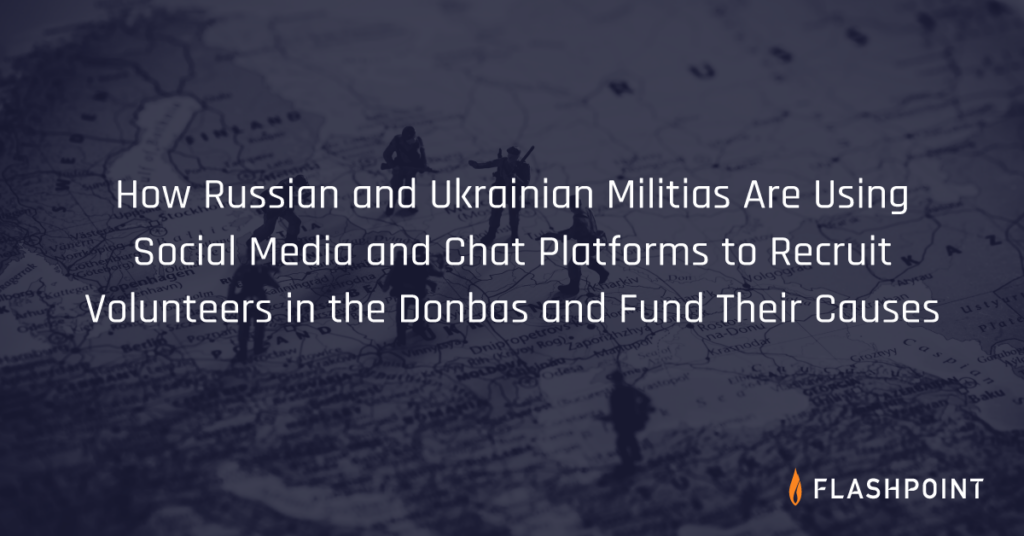 Table Of Contents
Click here for Flashpoint's coverage of the role of intelligence in Russia's war on Ukraine.
As of this publishing, Russia has amassed 190,000 troops along the Ukrainian border, according to U.S. intelligence, in the Donbas region of Ukraine. Despite varying accounts from the frontlines, and constant posturing in the media from both Russian President Vladimir Putin and U.S. President Biden, the prospect of war remains an imminent possibility and not yet an all-out reality, thankfully.
In fact, much of the "action" is taking place on the internet, as both Russian-aligned and Ukrainian nationalist groups are using various chat and social media platforms to recruit and fund their operations. This includes the separatists militias "Donetsk People's Republic's Army" (DPR Army) and the "Luhansk People's Republic's Army" (LPR Army)—pro-Russian rebel factions that control portions of these self-proclaimed statelets, which are home to more than 3.5 million residents.
Flashpoint has observed a steady rise in internet-related activity across numerous involved parties, which could impact recruitment, as well as materials and financial support.
Cross-platform recruitment and expansion
Flashpoint has identified numerous accounts belonging to self-purported pro-Russian separatist militias, who are using social media and chat platforms to recruit volunteers to fight in the Donbas. In many of their posts on VK, Telegram, and other platforms, recruiters have provided contact information. Flashpoint analysts have matched data from its collections to these datasets shared on VK, showing that the same pro-Russian separatist groups recruiting on VK are also recruiting on Telegram.
Flashpoint analysts observed increased recruitment efforts by pro-Russian separatist militias across multiple platforms since mid-October 2021. Analysts attempted to identify pro-Russian militia recruitment within Flashpoint datasets using the phone numbers associated with pro-Russian separatist groups shared on other platforms, specifically VK. Although Flashpoint collections predate the first conflict between Ukraine and Russia in 2014, analysts identified that these contact numbers were shared on Telegram in January 2022.
Additionally, analysts identified an increase in recruitment activity in the "Army of the DPR. Tips for volunteers" VK group around mid-October 2021, showing potential renewed interest by pro-Russian separatists around the time journalists first reported Russian-troop build up near the Ukrainian border.
Recruitment communication
On January 20, 2022, the administrator of the Russian- and English-language Telegram channel "Defenders of Donbass / Защитники Донбасса" shared the following message in both English (below) and Russian:
Here you can find information about service in the Armed Forces of the Donetsk People's Republic.
Army of the DPR.
Tip for volunteers: The shortest contract term is one year.
Phones for communication [Phone numbers redacted]
Previously, on November 10, 2021, the administrator of the VK group "Армия ДНР. Советы добровольцам" ("Army of the DPR. Tips for volunteers") posted a message which used the same contact information, including phone numbers, as the Telegram post listed above.
Militias were recruiting for frontline soldiers, anti-aircraft gunners, and barracks guards as well as non-combat positions, such as drivers, medical personnel, and mechanics.
The road to Donetsk
Flashpoint has identified discussion boards on VK allegedly affiliated with pro-Russian separatist militias with information for recruits on how to travel from various locations within Russia and the surrounding region to the Donbas. These VK discussion boards were created several years ago but they remain active. Comment threads are regularly updated with new information—sometimes daily, as is the case on one DPR board—leading Flashpoint analysts to assess with moderate confidence that these discussion boards remain relevant.
An assessment of two discussion boards—one for the DPR, as mentioned above, and another for the LPR—show recent activity. The initial post on the DPR discussion board came in February 2015, and there are 51 pages of discussions since that initial post, the most recent of which came on February 11, 2022. On January 11, the board's admin provided an updated travel guide.
The LPR discussion board isn't as nearly active, with the most recent post coming in November 2021.
Travel advice
Group administrators are informing potential recruits that methods of travel directly from Russia have been severely restricted due to precautionary measures related to COVID-19. Entry into the Donetsk People's Republic (DPR) or Luhansk People's Republic (LPR) from Russia is still possible for Russian citizens who carry passports for Belarus, Abkhazia, and South Ossetia, as well as the DPR and LPR. This also applies to Ukrainian citizens that permanently reside in territories occupied by the DPR or LPR.
For citizens of countries and localities not mentioned above, entry into the DPR or LPR is not possible without expressed permission from the controlling factions of the DPR or LPR. Recruits can obtain permission and travel there by applying through a military unit.
Analysts observed pro-Russian separatist militia VK groups sharing information for reliable transportation methods, travel information to recruitment stations, and contacts within militia groups for when recruits reach Donetsk.
Azov Battalion
Flashpoint analysts identified individuals allegedly recruiting for the "Azov Battalion"—a neo-Nazi and ultra-nationalist Ukrainian paramilitary group that was absorbed by the Ukrainian military in November 2014—across various platforms, such as Telegram. The majority of recruiter contact information found within Flashpoint's datasets match those shared on other online sources, showing the same groups recruiting for the Azov Battalion on Telegram are also recruiting through other social-media platforms—potentially as part of a centralized effort.
On January 31, the administrator of a Ukrainian-speaking Telegram channel shared a recruitment advertisement for the Azov Battalion that included links to popular social media and video-sharing platforms. This advertisement also included information about three Telegram channels, all of which are allegedly affiliated with the Azov Battalion. Two of these Telegram channels are solely dedicated to recruitment.
Skills wanted
Both pro-Russian separatist and Ukrainian militia groups are recruiting military and non-military personnel alike. Analysts observed both groups sharing recruitment advertisements that list the skills and talents needed for each position.
On February 1, 2022, the administrator of a Ukrainian-language Telegram channel shared information for a recruitment drive in Mariupol, Ukraine, seeking to fill the following positions:
Veterans with combat experience
Azov Battalion veterans
Medical personnel with combat experience
Physicians and nurses with at least three years of experience
Ambulance drivers
Truck drivers
Tractor drivers
Mechanics
The group administrators used Telegram handles that Flashpoint analysts previously observed the Azov Battalion using for recruitment.
Additionally, on February 14, a VK user posted in pro-Russian separatist group "Army of the DPR. Tips for Volunteers" they they are recruiting for the "Military Unit 08826," which is located in Donetsk. This same VK user claimed that they were recruiting for various ranks, such as officers, and provided the phone number for interested parties to contact.
Use of cryptocurrencies
On January 27, 2022, a user operating under the alias "Defenders of Donbass / Защитники Донбасса" posted in the pro-Russian separatist Telegram channel "Anti-Bandera Task Force" asking for cryptocurrency and providing wallet numbers to support the DPR army.
This was the first instance Flashpoint analysts observed pro-Russian separatists using cryptocurrency wallets to collect donations in either Flashpoint collections or the open-web. Based on blockchain research, neither crypto wallets have been used as of this publishing. However, the creation of crypto wallets by pro-Russian militants would allow them to receive anonymous funds quickly in the event of conflict.
Protect company personnel, assets, and infrastructure with Flashpoint
Safeguarding company personnel, assets, and infrastructure from physical threats posed by adversaries, ranging from insiders and hacktivists to violent extremists, is inherently challenging and resource-intensive. Sign up for a free trial today to see how Flashpoint can empower your security teams.