Blog
Super Bowl LVI Physical Security Guide: From Counterfeiting and COVID to Protests and Phishing
The Department of Homeland Security (DHS) considers the Super Bowl a Special Event Assessment Rating (SEAR) Level 1—meaning it requires extensive federal interagency support for coordination and security from both a cyber and physical preparation standpoint.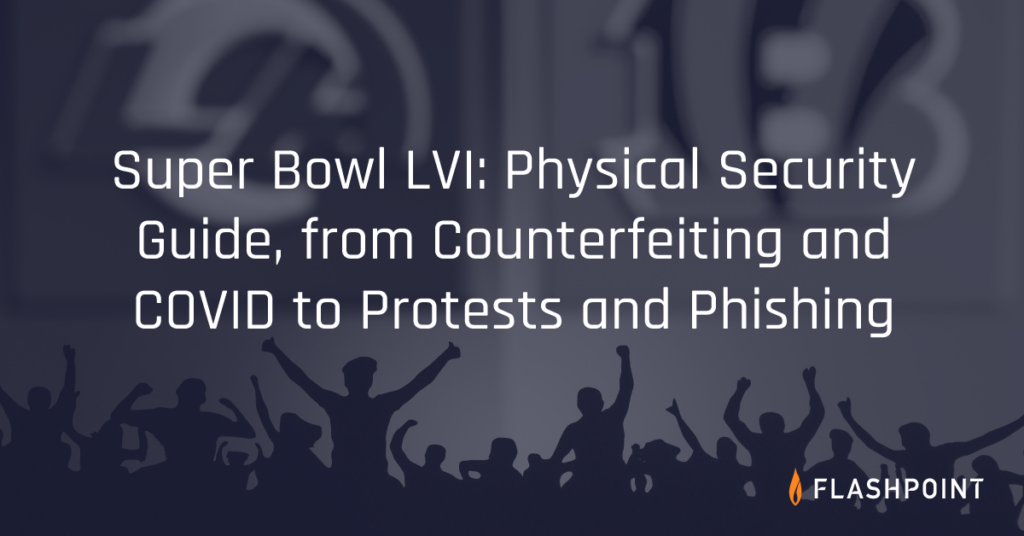 Table Of Contents
Security SEAR Level 1
The Department of Homeland Security (DHS) considers the Super Bowl a Special Event Assessment Rating (SEAR) Level 1—meaning it requires extensive federal interagency support for coordination and security from both a cyber and physical preparation standpoint.
Raucous, even violent "celebrations" are just one example of the physical threats—and other potentially criminal activity—that crowded, highly publicized events like the Super Bowl inspire. Following the Philadelphia Eagles' Super Bowl victory in 2018, some media outlets referred to some of the post-victory celebrations as a "riot." According to a Philadelphia Inquirer article, these celebrations were mostly peaceful: "[O]ne gas station was looted … traffic lights were torn down outside City Hall … a couple of windows at Macy's were shattered … a few fights broke out, the awning outside the Ritz-Carlton collapsed, and a car was flipped on its side."
"The knucklehead contingent was extremely small," the Philadelphia mayor said at the time. In fact, it was the losing team, the New England Patriots, whose fans apparently caused more damage.
Here are the threats and context that Flashpoint analysts are tracking leading up to the big game.
High stakes for Cincy
This Sunday, the Los Angeles Rams and Cincinnati Bengals face off in Super Bowl LVI at 6:30 PM EST at SoFi Stadium, in Inglewood, California; for the second year in a row, the host stadium's home football team will compete in the Super Bowl.
For Rams fandom, this is not a new occurrence. Though they lost in the Super Bowl a few years ago, the Rams have hung five banners in team history—with the last coming in the 1999 season, when the Rams, then based in St. Louis, bested the Tennessee Titans by inches in Super Bowl XXXIV.
It's a different story entirely for the Bengals, who are appearing in their third-ever Super Bowl appearance, having lost to the San Francisco 49ers in Super Bowl XVI and Super Bowl XXIII. The Cincinnati fanbase, which has suffered mightily over the years—prior to this season, the Bengals hadn't won a playoff game since 1990, the longest drought in the four major North American sports, according to CBS Sports—is very, very, very ready to celebrate should their team hoist the Lombardi Trophy.
Truck drivers to use Super Bowl as medium for their protests against vaccination mandate
The COVID-19 mandate protests recently conducted by Canadian truck drivers have escalated to drivers utilizing their trucks as blockades around Ottawa and obstructing US-Canadian border crossings. These protests stem from a recent mandate requiring truck drivers entering Canada to be fully vaccinated to avoid mandatory testing and quarantine.
In addition, international truckers, conspiracy theorists, and far-right extremist groups—such as "Proud Boys"—are pledging support for this cause. These California demonstrations appear to be a spin-off of the "Freedom Convoy 2022" campaign.
Observed online discussions are gaining increased traction with users advocating for drivers to use their trucks and block highways leading to the Super Bowl. Those supportive of this action claim blocking access to the Super Bowl would get a lot of media attention and disrupt alleged child sex trafficking operations associated with high-profile events.
Others are against utilizing this platform to bring attention to their cause and see protesting the Super Bowl as counterproductive, expressing their issue is with "corrupt government" and protesting the Super Bowl in this way would just "p**s off the normies [regular citizens]."
Additionally, these protest activities are gaining traction among various anti-human trafficking networks (more on this below).
Flashpoint assessment
Flashpoint analysts assess with moderate-to-high confidence that drivers will very likely attempt to carry out these protest activities throughout L.A. County on February 13, 2022. Based on the everyday volume of L.A. traffic and the addition of Super Bowl attendees, if enough truck drivers participate in these protest activities—as seen in Ottawa, Canada—it will very likely lead to severe disruptions in game-day traffic patterns and potentially hinder the teams and fans ability to attend the game.
Due to the potential for altercations with law enforcement and disgruntled fans, should truck drivers attempt to block major interstates or highways, analysts assess with moderate-to-high confidence that these demonstrations will likely pose a physical security threat to law enforcement, first responders, and the general public.
FAA and TSA Regulations
Furthermore, as an increased security measure, the Federal Aviation Administration (FAA) will issue Temporary Flight Restrictions (TFR)—effective 2:30 PM to 8:30 PM PST—covering a 34.5-mile radius from the center of SoFi Stadium and approximately 18,000 feet in altitude; drones are included in the TFR.
Criminal activity
Counterfeit Goods and Merchandise
The large crowds drawn by the Super Bowl will very likely lead to an increase in the selling of counterfeit goods such as jerseys, tickets, and other team memorabilia. The sale of counterfeit goods creates a physical and financial security risk for the consumer and negatively impacts the legitimate revenue of apparel companies and NFL franchises while subsidizing various criminal organizations.
During the 2020 Super Bowl in Miami, the Department of Homeland security seized $123M in counterfeit goods leading up to the event. Flashpoint analysts assess with high confidence that large quantities of counterfeit goods are very likely to be sold in conjunction with Super Bowl LVI.
On a related note, as of this writing, Flashpoint analysts have not observed any mention of current calls to boycott Super Bowl official sponsors, athletes, or performers.
Social engineering schemes
While Flashpoint is not aware of any reported campaigns, analysts assess with high confidence that Super Bowl-themed scams, such as phishing, click fraud, and selling counterfeit tickets, are very likely to take place, most likely before the game kicks off. As of this writing, Flashpoint has not observed any calls for cyber campaigns, such as those seen in previous years—"OpNFL" and "OpSuperBowl" are two recent examples—targeting Super Bowl LVI. Analysts assess with moderate confidence that, if actioned, cyber campaigns are more likely to target fans and attendees rather than the NFL or official event sponsors.  
Terrorism threats
International Terrorist Organizations and Domestic Violent Extremists (DVE)—such as anarchists, white supremacy extremists, and religious extremists that draw inspiration from al-Qaeda and ISIS—remain a persistent threat to high-profile events. These threat actors have long advocated for targeting large-scale sporting events due to the concentration of crowds and the media coverage that such events attract. Analysis of prior terrorist attacks of high-profile events suggests the threat actor(s) are more likely to target highly populated events or establishments near the event due to easier access.
At the time of this writing, Flashpoint analysts have not identified any specific or imminent terrorist threats to Super Bowl LVI. Flashpoint analysts are unaware of any direct, imminent threats emanating from jihadists or domestic violent extremists targeting the Super Bowl. However, it is worth noting that such actors have long targeted large-scale sporting events in both rhetoric and action due to the concentration of crowds and the media coverage that such events attract.
Human trafficking
According to the DHS, human trafficking has the potential to surge with the occurrence of large-scale events. As such, they have implemented programs, like the Blue Campaign, to increase prevention efforts and public awareness of key indicators, including the differentiation between human trafficking and human smuggling.
Though analysts have not identified any specific mentions of human trafficking or child sexual exploitation associated with Super Bowl LVI, this is a perpetual threat that should remain at the forefront of security and asset protection plans for local events and businesses.
COVID-19 regulations
The NFL identified AT&T Stadium in Arlington, Texas as one of the facilities to potentially host Super Bowl LVI should they elect to relocate the game due to COVID-19 related restrictions in California or need to relocate the game based on weather-related issues. On January 13, 2022, the NFL affirmed its commitment to hosting the Super Bowl at SoFi Stadium, despite a surge in COVID-19 cases.
Game attendees will be required to show proof of vaccination or a negative COVID-19 test in order to enter the game. To assist fans, the Los Angeles Convention Center will provide free rapid COVID-19 testing on February 13. Additionally, the Los Angeles County Department of Public Health will be passing out KN95 masks when entering the stadium to attendees; wearing them will not apparently be enforced, however.
Protect company personnel, assets, and infrastructure with Flashpoint
Safeguarding company personnel, assets, and infrastructure from physical threats posed by adversaries, ranging from insiders and hacktivists to violent extremists, is inherently challenging and resource-intensive. Sign up for a free trial today to see how Flashpoint can empower your security teams.