Blog
Days of Chaos: How OSINT Helps Us Understand the Putin-Prigozhin Schism
Social media and messaging platforms like Telegram continue to play a key role in understanding events, rumors, and ideas as they unfold in the Russia-Ukraine war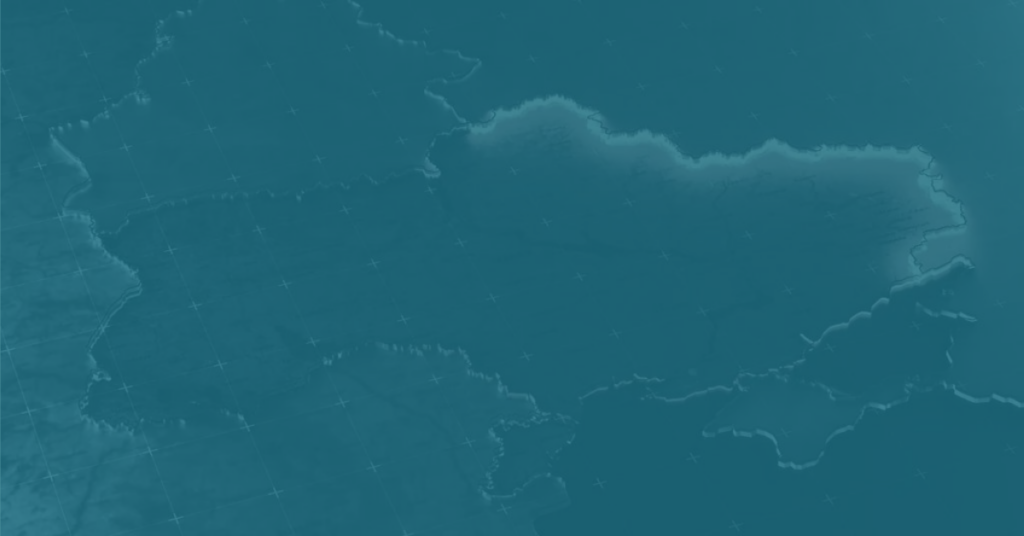 Table Of Contents
Putin Vs. Prigozhin
The once-cordial relationship between Vladimir Putin and Yevgeny Prigozhin, commonly known as "Putin's chef," has soured completely, marking one of the most compelling storylines in Russia's now 16-month-long invasion of Ukraine. This particular conflict, however, played out in Russia on June 23 and lasted a scintillating ~36 hours, ending in a schism whose implications continue to reverberate across the world, especially in Russia.

Social media and messaging platforms like Telegram continues to play a key role in helping individuals and organizations alike understand events, rumors, and ideas as they unfolded, often in real time. As we describe in this article, and as we highlighted in our popular report on the role of open-source intelligence (OSINT) in the Russia-Ukraine War, organizations are rightfully viewing OSINT as a key element of their intelligence and security operations and leveraging it to understand organizational risk as it relates to the cyber, physical, and informational battlefields of this war.
Let's zoom in on two crucial days—June 23 and June 24—of the conflict between Putin and Prigozhin and examine the importance of OSINT in understanding the events, then and now.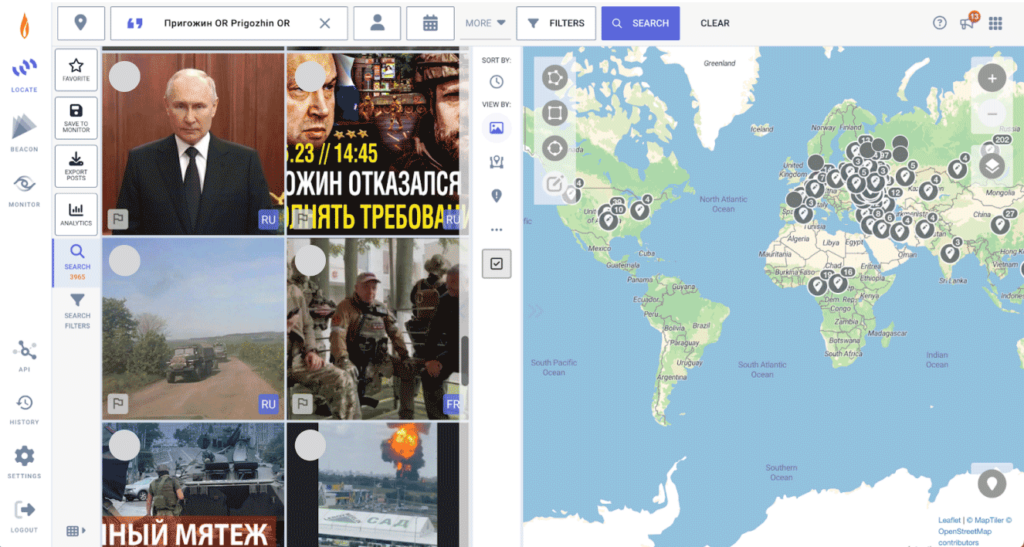 June 23: Wagner Accuses MOD of Missile Strike, Potential Military Coup Brews
On June 23, Yevgeny Prigozhin, the founder of the paramilitary company Wagner Group, accused Russia's Ministry of Defence (MOD) and its leader, Sergei Shoigu, of conducting a missile strike on his mercenaries. Prigozhin claimed that the strike resulted in numerous fatalities. He characterized the MOD as "evil" and called for those responsible to be held accountable. It was unclear whether this move should be classified as a coup, insurrection, mutiny, or hardline bargaining tactic at the time.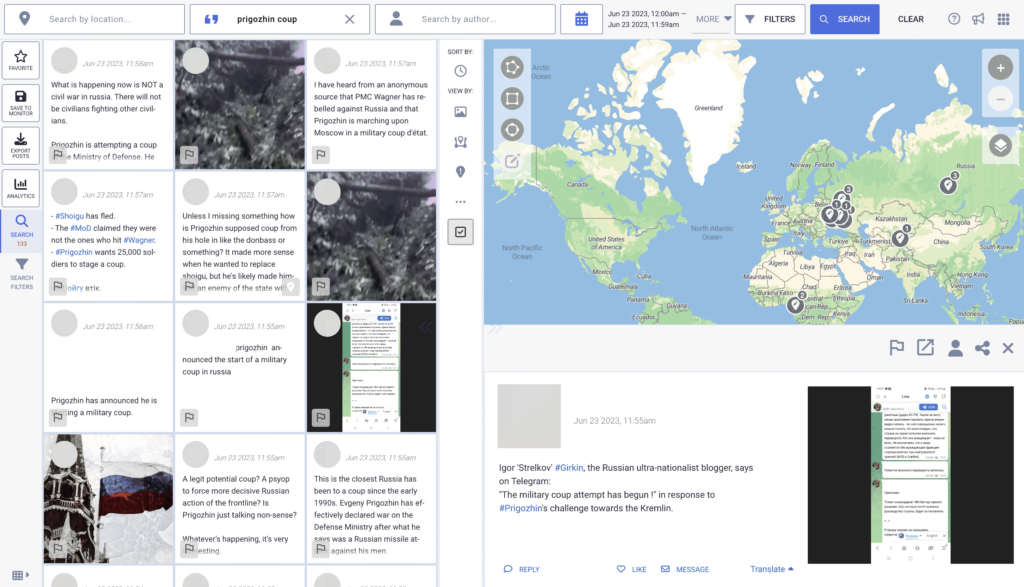 In retaliation, Prigozhin has appeared to openly advocate for armed resistance against the MOD, adding fuel to an already tense stand-off. Prigozhin warned that "the next move will be ours," and that those who are responsible for the deaths of the Wagner troops killed today, as well as the deaths of many tens of thousands of Russian soldiers, will be "punished" and "justice" will be "returned," both to Russia's armed forces and all of Russia. The MOD has rejected these accusations, claiming that they "do not correspond to reality" and labeling them as an "informational provocation."
The current events, particularly the Wagner Group turning on Putin, can be traced back to the devastating fighting at Bakhmut, where the Wagner Group suffered heavy losses. This battle resulted in significant costs and losses for Russia.
June 24: Prigozhin's March To Moscow
On June 24, Prigozhin announced that Wagner Group, the private military company (PMC) he leads, would cease its march on Moscow, ending what has been widely regarded as an armed insurrection and potential coup attempt targeting Russia's military and government leadership.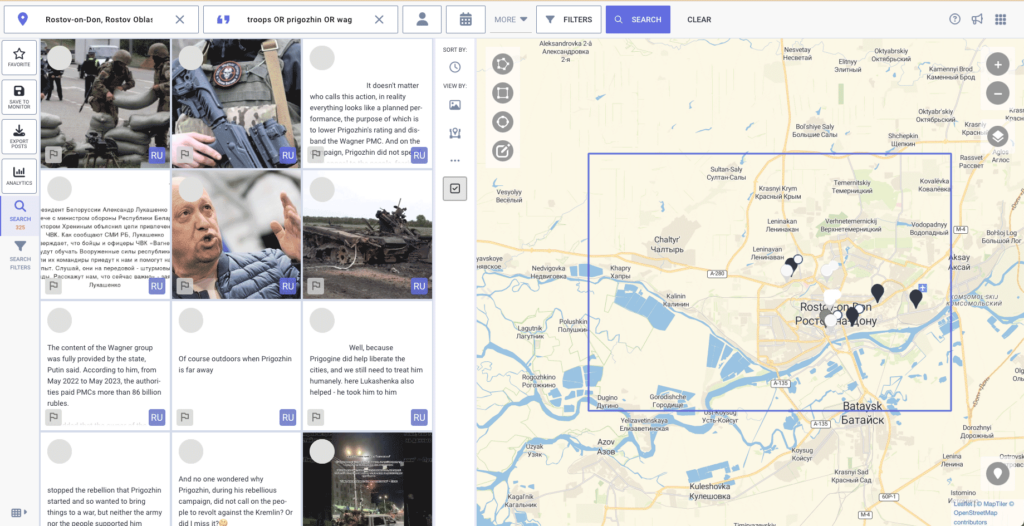 In an interesting twist, Belarusian President Lukashenko stepped in, providing a means for Wagner to continue operating in a "legal" manner. This intervention prompted the move of Wagner Group and Prigozhin to Belarus. This is particularly noteworthy as PMCs are technically illegal under Article 359 of the 1996 Russian Criminal Code. As a result of the negotiations, the sides agreed that a "bloodbath" on Russian territory should be averted and de-escalatory steps should be taken. Prigozhin agreed that Wagner would halt its advance on Moscow, which Prigozhin claims Wagner got within 200 kilometers of, and turn back to "go in the opposite direction to [their] field camps." In return, Wagner personnel would be granted "security guarantees."
Prigozhin claims that Wagner had not spilled "a single drop of blood of our fighters" since the start of their march on Russia the day prior. However, Prigozhin claims that Russia's military had attempted to fire at the PMC during their march, reportedly downing at least one and potentially multiple Russian military helicopters. There are also reports of a fire at a fuel depot in Voronezh, which may have been hit by a Russian helicopter.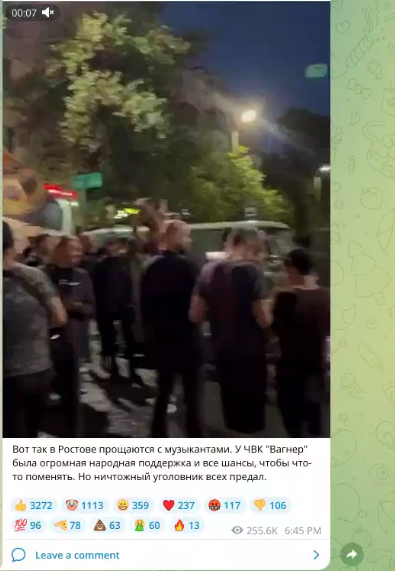 Wagner troops seized control of multiple military and administrative buildings in the Russian city of Rostov-on-Don early on Saturday morning and had since reportedly reached Voronezh, which lies 500 kilometers north of the city and on the way to Moscow. On June 24, Russian media reported that Wagner was preparing to leave Rostov-on-Don.
Since then, the Kremlin has said that Prigozhin would not have to face charges in Russia, but he has been dubbed a "traitor" by Putin. As of this publishing, Prigozhin is allegedly in Belarus, according to the country's President, Lukashenko, who brokered the deal on Prigozhin behalf.
Concluding thoughts
In today's dynamic geopolitical climate, staying ahead of the curve necessitates more than just monitoring mainstream media. Open-source intelligence collections have emerged as a game-changing tool for keeping abreast of the latest events in Ukraine and Russia, which can help various organizations and sectors sift through vast amounts of information, quickly filter out the noise, and deliver the most salient insights in real-time. The recent events in Russia showcase the value of this intelligence resource in offering a multifaceted perspective on ground realities.
Get Flashpoint on your side
Flashpoint's suite of actionable intelligence solutions enables organizations to proactively identify and mitigate cyber and physical risk that could imperil people, places, and assets. To unlock the power of great threat intelligence, get started with a free Flashpoint trial.