Blog
The First 72 Hours of the Israel-Hamas War: Hamas and PIJ Activity on Telegram
Analyzing Telegram's role in facilitating communication and strategy for Hamas and PIJ during the initial days of the Israel-Hamas War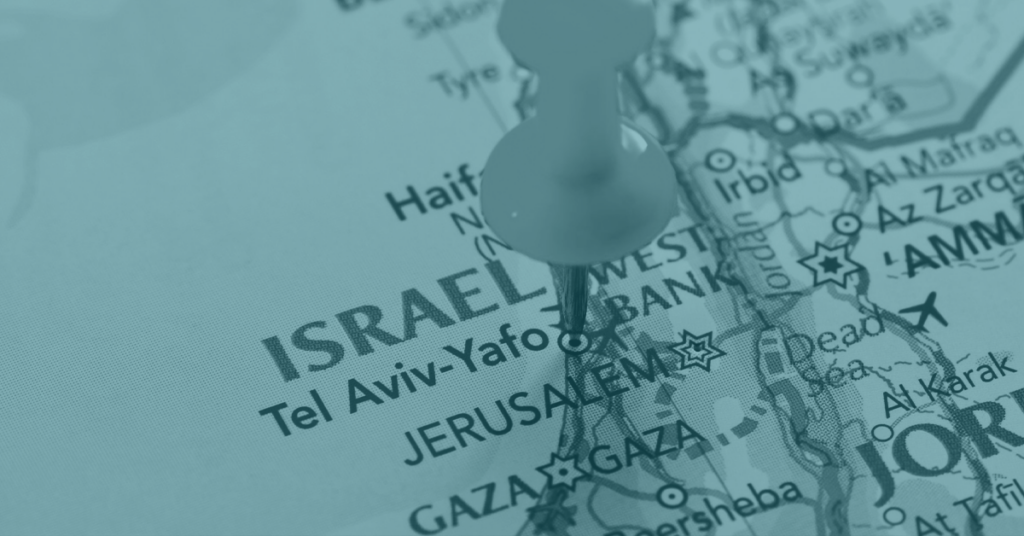 Table Of Contents
Telegram: A crucial modern warfare channel
Telegram, with its 700 million-plus-strong user base, has evolved into a pivotal communication hub for Hamas and Palestinian Islamic Jihad (PIJ). Its robust privacy and encryption protocols safeguard communications while also providing a covert operational space for militant groups and cybercriminals. The platform's role in open-source intelligence (OSINT) is vital, offering real-time insights into unfolding global events, such as the ongoing military conflict between Hamas and Israel, and becoming an essential tool for intelligence professionals navigating the multifaceted landscape of contemporary warfare. Organizations with regional interests should perceive Telegram as a crucial asset in understanding their risk apertures and navigating through conflict complexities.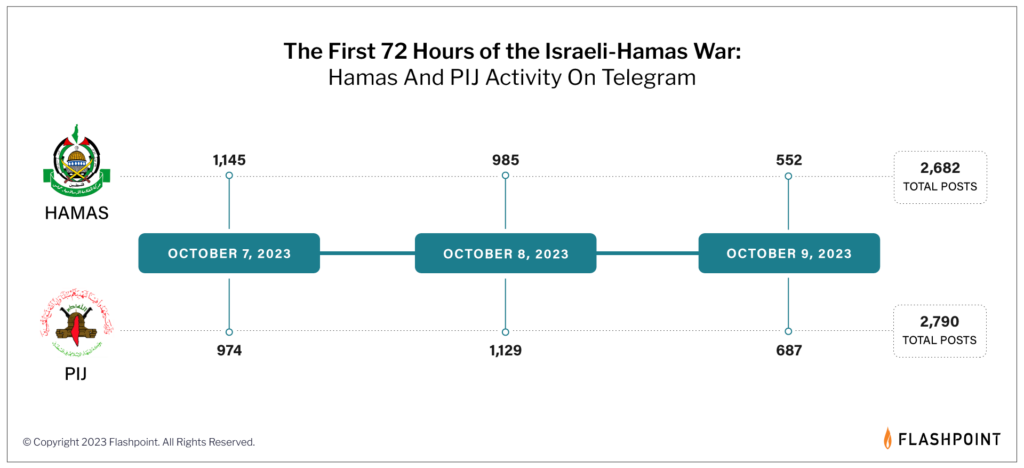 In the context of recent global conflicts, including the Russia-Ukraine war and the Hamas-Israel conflict, platforms like Telegram have demonstrated their significance by providing real-time updates, documenting potential war crimes, and offering a platform for anti-war narratives amidst governmental censorship. Both scenarios underscore Telegram's evolving role in modern warfare, influencing narratives and strategies, and providing a digital battlefield for organizations and intelligence professionals to navigate and anticipate conflict dynamics.
October 7: Surprise Hamas attack
This digital battlefield, while shaping the narratives and strategies in contemporary conflicts, abruptly collided with reality on October 7, when the virtual orchestrations of Hamas transformed into a tangible, devastating surprise attack on Israel.
Hamas militants launched an unexpected, devastating attack on Israel on October 7, resulting in hundreds of casualties and numerous hostages. Over 2,000 rockets were fired into Israel, causing significant casualties and prompting Prime Minister Benjamin Netanyahu to declare war on Hamas, mobilizing the military and reserves. The assault, occurring on the fiftieth anniversary of the 1973 Egypt and Syria attack and during the Jewish holiday, Shemini Atzeret, took Israel by surprise.
Reports state that the attack resulted in hundreds dead and more than 500 injuries, the kidnappings of Israeli soldiers, and vehicle takeovers, while Hezbollah celebrated the assault. The US Embassy in Jerusalem issued an alert and initiated shelter-in-place protocols for its personnel. Militants breached the Gaza-Israel barrier using various methods, and Hamas commander Mohammed Deif urged Palestinians and Arabs to join the operation, raising fears of a wider conflict.
At around 5:30 a.m. UTC, Hamas posted in one of its main Telegram channels, that the Commander-in-Chief of Al-Qassam Brigades announced the beginning of Hamas's Al-Aqsa Tufan (Flood) and the firing of over 5,000 rockets aimed at Israel. Shortly thereafter, reports show that air raid sirens sounded in Jerusalem around 6:30 a.m. local time, signaling an attack and instructing citizens to take cover.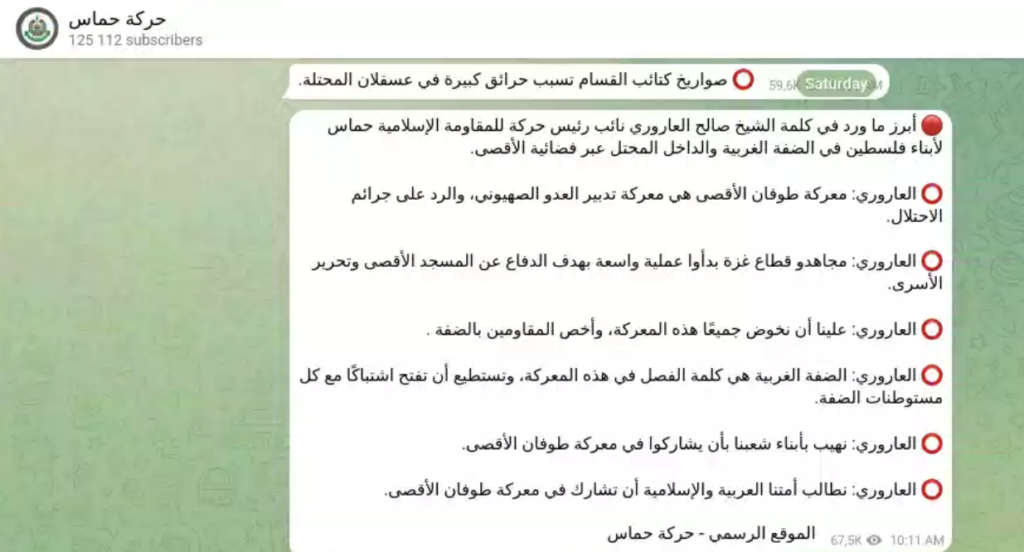 Hamas Telegram post announcing the start of Al-Aqsa Tufan (Image: Flashpoint)
This message represents one of 1,145 messages sent over Hamas's main Telegram channel on October 7. For context, the day prior, 373 messages were sent over the same channels, showing more than a 3X spike in chatter from October 6.
October 8: Violence escalates
The conflict intensifies with continued assaults and counter-assaults from both Israel and Hamas. The death toll rises sharply on both sides, and the situation garners international attention and condemnation. Hamas issues a threat to execute Israeli hostages, prompting further international outrage. The U.S. confirms that several American citizens have been killed in the attacks and expresses its unwavering support for Israel. Various nations and international leaders continue to condemn the violence and express solidarity with Israel.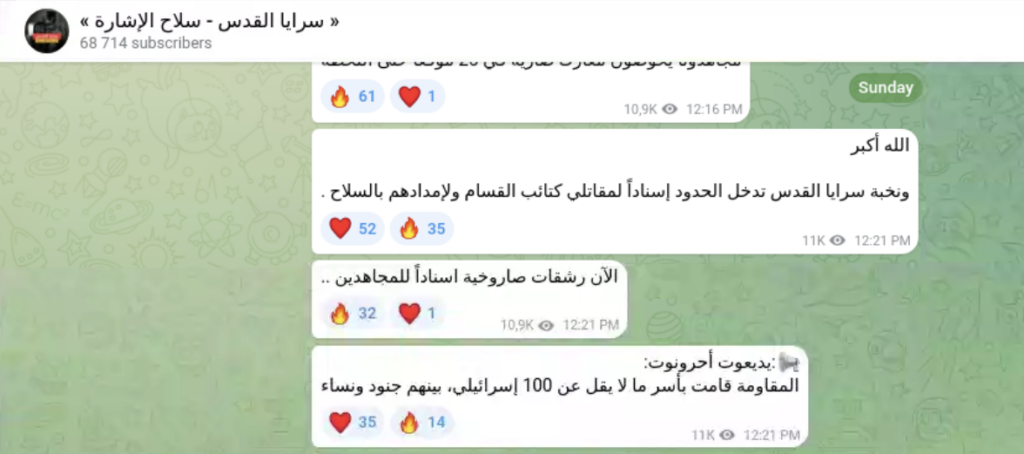 On October 8, Palestinian Islamic Jihad posted that "the elite of Al-Quds Brigades is entering the border to support Al-Qassam Brigades fighters and supply them with weapons." (Image: Flashpoint)
On Sunday, 1,129 posts were sent between PIJ and its followers on Telegram, with messages such as above sharing updates of the assault.
October 9: Broadening battlefields
The conflict takes a new turn as rockets are fired from Lebanon toward Israel, prompting Israeli forces to retaliate against Lebanese territories. The U.S. updates the number of American citizens killed in the attacks and acknowledges that Americans are among those taken hostage by Hamas. Israeli Defense Minister Yoav Gallant orders a "complete siege" on Gaza and promises a robust and unrestrained response to the ongoing attacks, vowing to eliminate any threats against Israel.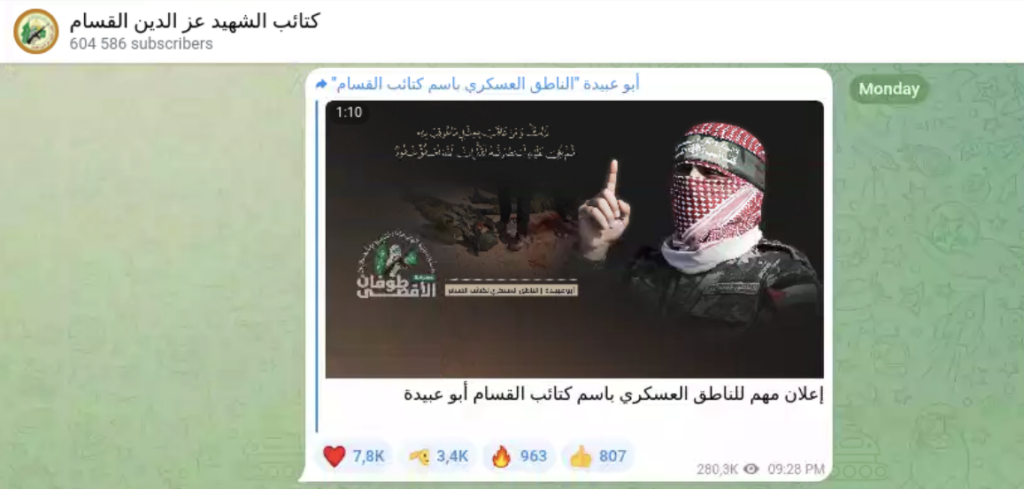 Telegram post from a major Hamas channel linking to a video of Abu Obaida, the spokesperson for the al-Qassam Brigades, in which he signals further violence to Israelis, particularly hostages (Image: Flashpoint).
Throughout Monday, Telegram activity from Hamas and PIJ fell by almost half compared to the day prior. Within the first 72 hours of the Israeli-Hamas War, Flashpoint observed a total of 5,472 Telegram posts shared by both Hamas and PIJ across their main channels.