Blog
G2 Recognizes Flashpoint as High-Performing 'Leader' in Enterprise Threat Intelligence
Breaking down Flashpoint's rankings in G2's 2023 fall reports, including customer testimonials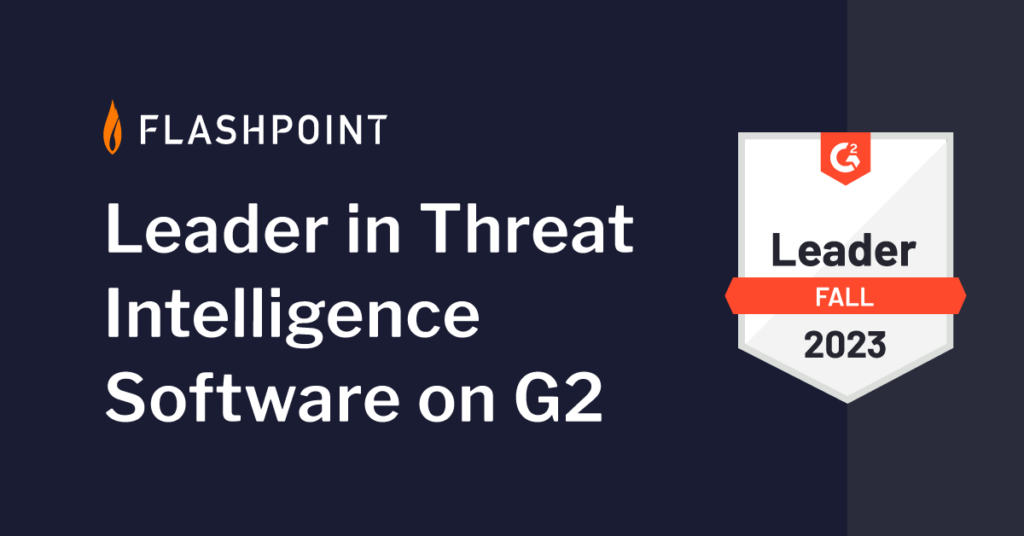 Table Of Contents
Flashpoint has earned multiple trust badges from G2's Fall 2023 Reports, affirming our unwavering commitment to delivering timely, contextual intelligence to our clients so they can take rapid, decisive action to stop threats and reduce risk. Here are some highlights from G2's reports.
'Leader' and 'High Performer'
G2 awarded Flashpoint a "Leader Badge"—ranking us #1 in the Enterprise Americas Regional Grid for Threat Intelligence. Specifically, customers highlighted the value of Flashpoint's finished intelligence reports, with 98 percent of customers emphasizing its utility.
'The Platform itself is a great tool'

—CTI analyst on Ignite
94% 'Likely to Recommend'
In G2's Enterprise Relationship Index for Threat Intelligence, Flashpoint has the highest score for "Most Likely to Recommend," with 94 percent of surveyed customers endorsing Flashpoint as an intelligence partner.
Flashpoint also exceeded the index's performance averages in all categories, including "Ease of Doing Business With" and "Quality of Support."
'Flashpoint has been a great partner of ours for many years, and the trust we've built with their team of managers and analysts is excellent.'

—Fraud Intelligence Lead, Fortune 500 Technology Company

Related reading: Flashpoint a Strong Performer in External Threat Intelligence Forrester Wave
Leader in Dark Web Monitoring
In G2's Americas Regional Grid® Report, 99 percent of surveyed customers highlighted Flashpoint's dark web monitoring capabilities.
Additionally, 90 percent of customers emphasized Flashpoint's ticketing and RFI services, showcasing our commitment to the intersections between data, intelligence, and professional services support.
'Flashpoint offers the greatest amount of data regarding the criminal underground in relation to their peers. The data is well sorted, well presented, and easy to search.'

— SVP, DFIR Investigations, Public Sector
'An Excellent Intelligence Tool'
Hear from our customers by reading Flashpoint review on G2, or sign up for a free trial today to see how "great" threat intelligence can help your organization reduce risk and mitigate threats.